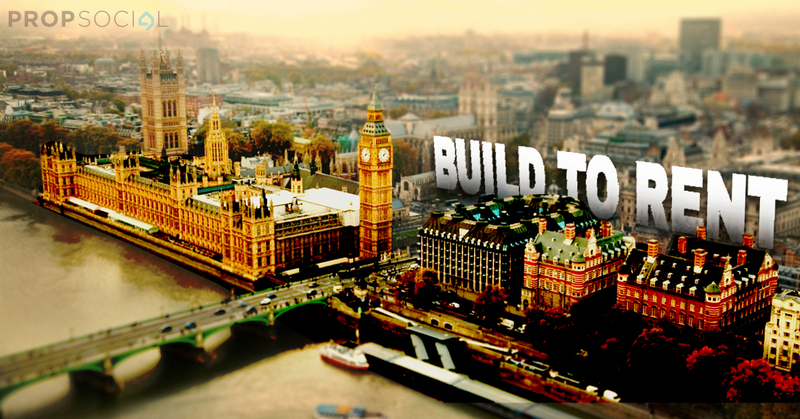 While still unheard of in Malaysia, build-to-rent (BTR) developments will comprise the lion's share of Eco World International Bhd's projects in London, with potential lessons for developers closer to home.
The overseas projects arm of Eco World Development Group Bhd (EcoWorld Malaysia), EcoWorld International has set a total sales target of RM6 bil from FY2019 to FY2020, underscoring its commitment to the market, with a similar target set for EcoWorld Malaysia.
Its existing sites in London have the potential to deliver over 3,000 BTR units over the next three years, with plans to deliver a total of 10,000 units in five years.
"Right now, BTR is a million-dollar business in the United Kingdom. As a comparison, the segment is worth trillions in the United States. We'd like to build it up in London towards the billion-dollar mark," said EcoWorld Malaysia chairman Tan Sri Liew Kee Sin, speaking at the announcement of the group's FY2018 results.
EcoWorld will focus on the BTR segment in London for the near future, said Liew
"Moving forward, as far as London is concerned, EcoWorld will focus on BTR for the next few years, until the issues surrounding Brexit are resolved. At that point, we will return to open market sales."
This space for rent
The build-to-rent paradigm was introduced in response to London's burgeoning housing crisis, with the London School of Economics and Political Science (LSE) estimating that current housebuilding rates in the UK capital must increase twofold to address mismatches in terms of volume and pricing for residential properties.
While the BTR space encompasses diverse development types, the UK's Ministry of Housing, Communities & Local Government defined the concept in its February 2017 Housing White Paper as a single building with 100% of its units privately rented.
In addition, the property must be professionally managed in single ownership, and offer tenancy terms of three years or more, though these details and other criteria such as the number of units per building may vary from project to project.
BTR properties in London are frequently forward-funded by investors. The segment has grown in popularity among developers and institutional investors as home ownership declines in London, with a London Councils report finding that the private rented sector represented 28% of all households in the city in 2016.
This figure is slated to grow to nearly 40% by 2025, overtaking owner occupation as the primary form of accommodation for the first time since the 1960s and drawing developers such as EcoWorld International to venture into the space.
The BTR approach has a range of benefits for developers, shared Liew, particularly in terms of cash flow.
For example, land costs are transferred to developers in the segment upfront, with progressive payments depending on stage of completion, in contrast to properties for open market sale. As such, the need for funding solutions such as bridge financing is reduced, along with marketing costs.
The model also appeals to investors, he added, because of the nature of BTR properties as fixed assets with long-term value, along with the shift in consumer preferences towards rental accommodations in London.
"Our strategic decision to enter the extremely resilient UK mid-mainstream market, with its fast-growing BTR subsector, has proven correct," said EcoWorld International president and CEO Datuk Teow Leong Seng.
"It speaks volumes to the fact that we now have a best-in-class BTR team through EcoWorld London, with the experience and capabilities to make us a market leader in this fast-growing and recession-proof segment."
EcoWorld London's approach emphasises sites throughout Greater London, said Teow
Launched in June, EcoWorld London represents a joint venture between EcoWorld International and Be Living, the residential arm of UK-based construction and property services firm Willmott Dixon Holdings Ltd.
With affordable housing and availability a key issue for the Pakatan Harapan administration in Malaysia moving into 2019, it is possible that industry players may look to alternative models such as BTR to address ongoing supply mismatches in this segment of the domestic market.
This is not the first time affordable housing issues have been raised in Malaysia; in fact, the first waves of large-scale residential construction in Malaysia began with government-led affordable housing initiatives. However, developers gravitated towards the higher profit margins found in the luxury segment in subsequent years, leading to the current market mismatch.
Moving Towards The Future
On the home front, EcoWorld Malaysia reported RM3.1 bil in sales and core profit after tax of RM165.6 mil for FY2018, which the developer attributes to the success of its #OnlyEcoWorld housing scheme, as well as reductions in selling, marketing and administrative expenses.
The group will be starting out 2019 on a strong note with RM6.435 bil of unbilled sales carried into the next financial year, along with plans for a new home ownership initiative in the coming month.
"We will be launching a new campaign in January, which we call HOPE. This Home Ownership Programme with EcoWorld will cater to home occupiers, and not the speculative market," said Liew.
While the initiative is still in the planning phase, it will likely comprise two distinct mechanisms to assist home seekers in purchasing EcoWorld properties, with Chang sharing that target markets include Gen Y and Gen Z purchasers aged 40 and below.
Despite the moves some industry players have taken towards online sales for properties, as well as growing acceptance and understanding of online modes of selling, EcoWorld notes that HOPE is unlikely to include online transactions, citing continued demand for personalised service among home purchasers as well as the need for a clearer regulatory environment for such initiatives to see greater uptake.
(By: Aliff Yusri, 17 Dec 2018)
Do you think build to rent could take off in Malaysia? Let us know.