Everyone has a few old stuff they don't want to throw away due to sentimental reasons, be it an old shirt or an old mug. But what are you going to do when you run out of space?
Spring cleaning is one of the most effective ways to get rid of all your house clutter, and here are some of the most effective ways to deal with all your old junk while still keeping them close to heart.
1) Old Shirts to Blanket
So you collect t-shirts of every cartoon you've ever watched, wore them once and then kept them forever. Problem is, your tower of shirts have reached its limit and you have no space for anything else.
So what do you do? Quilt them!
Step 1: Bring them to the tailor
Step 2: Tell the tailor to cut out the pictures and sew them together from the edges. Then get them to sew on a nice thick fabric onto its back and fill it with some nice thick stuffing
And there you go! A new, hip one-of-a-kind in the world comforter!
2) Too Many Magazines, Too Much Time
So you like collecting magazines. No harm in that until your mom starts yelling at you to get rid of them. But you've practically spent a fortune on them, how can you just dump them?? Well, 'remake' them and turn them into photo frames! Light on the pocket, great as a present!
Step 1: Get a cheap & plain frame from Daiso and prepare blade and glue
Step 2: Slice your magazines up, roll them up and glue the edges (size and thickness to your preference!)
Step 3: Stick them onto the frame in the most creative way possible
Here is an example of how your end product should look like. Go crazy! You can even do up your mirror edges if you like!
3) Just as Good as Tupperware
Who doesn't love a nice airtight container? Problem is, the trustworthy airtight containers out there come with a painful price tag. But this problem will be solved if you have a few dozen plastic bottles lying around in your cupboard waiting to be thrown away.
Step 1: Slice the bottle in half about a quarter of the way from the head
Step 2: Grab a food friendly plastic bag and stuff its head through the mouth of the bottle 
Step 3: Pull the mouth of the plastic over the edges of the bottle's mouth as you would if it were a trash can
Step 4: Screw the bottle cover on over the plastic.
Voila! Free airtight bag! Here's how your end product should look like.
4) When CDs Became Obsolete
Remember the good old days when there were those wonderful Laser Discs which was where you got your shows from (unless you weren't born yet)? Which were then replaced by VCDs and DVDs that could store even better and higher quality videos.
Problem is, those things are now obsolete with apps like Popcorn Time where you don't even need to download the movie onto your device! So what do you do with your mouldy CD collection that's taking up an entire cupboard's worth of space in your room? Here's what you do.
Step 1: Smash your CDs into bits
Step 2: Colour them psychedelic 
Step 3: Stick them on a Laser Disc
Step 4: Fix a clock right in the middle
Now these are probably not the most enlightening set of instructions ever given, so here's a picture guide below. Knock yourself out and get a really cool clock! You can also get more ideas on how to creatively 'get rid' of your old CDs here: http://www.earthporm.com/25-brilliant-diy-ideas-recycle-old-cds/
5) Repurpose Old Shoes
All of us have that one pair, or ten pairs, of shoes that we never want to throw away no matter how bad its condition or how unrepairable. It could be that pair of shoes which your mom got you for your birthday, or a pair of shoes which won you that track race. But right now it's taking up space but you still don't want to part with it. So... Fancy doing some gardening?
Step 1: Grab your shoe
Step 2: Dump some soil into it
Step 3: Put in some hardy plants
Step 4: Place your shoes where you can see it everyday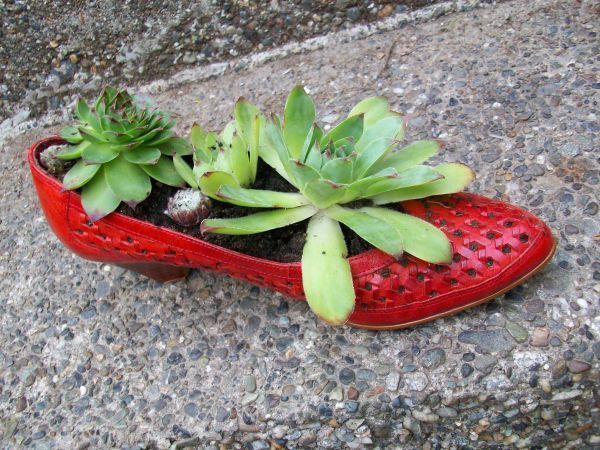 6) An Excess of Clothes Hangers
So you keep buying new clothes hangers because your old ones are bent out of shape, and are on its way to the dustbin. Wait. Stop that thought right there! Do you have an obsession with slippers but lack the space to store them? Here's how you kill two birds with one stone.
Step 1: Cut your hanger with a pair of pliers down the middle
Step 2: Curl them up decoratively
There you go! One bent clothes hanger on its way to the trash can just became one awesomely cool flip flop holder!
7) Reduce (cash spent), Reuse (old decors), Redesign (old earrings)
Malaysia is an awesomely cool place to live in, because seriously. Which other country can you get 4 pairs of earrings for only RM10! But over time this leads to an oversupply of earrings once you're bored with them. So here's what you can do (note: oversupply of time and creativity is necessary).
Step 1: Choose a pair of earrings you don't like
Step 2: Remove the parts you don't like
Step 3: Redecorate the earring
And now you have an entirely new set of unique earrings!
8)
Glass Jars to Glass Frames Anyone?
Festivals are usually a great time to accumulate fancy swanky stuff like cute glass jars that come in all shapes and sizes. And just because they're so handy, you don't have the heart to dump them; even though you've never found a use for them before. So what can you do with them?
Alternative #1
Step 1: Go to the beach and gather cute shells, sand and coral / Gather together some of your mini decorations
Step 2: Arrange them prettily in the jar
Alternative #2
Step 1: Print out photos of your favourite person/s
Step 2: Stick them on the inside of the jar, photo facing outwards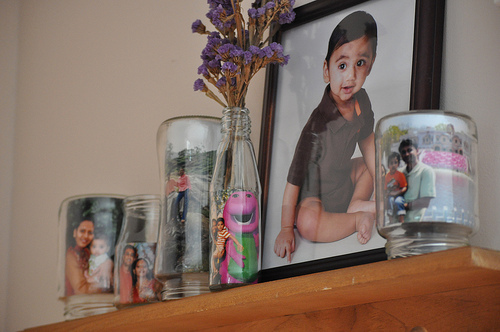 Whatever your decision on which to make, you'll end up with some really great results which you can use to decorate your home or make a present of to someone! 
Got anymore ideas you want to share? Come and share them here!
(Written by: Diane Foo Eu Lynn, 19th October 2015)