Property values should always increase, so don't make mistakes by investing in fancy renovation ideas that will cost you more money than reaping the returns in the long run. You also don't want to leave your house to waste away either. Even by investing a little in the right type of improvements for your home can increase its property value and saleability.
So what kind of renovations should you do to get the best bang out of your buck? Here are the top 5 renos you can consider:
1. The Kitchen
Kitchen renovations are one of the most profitable renovations you can do with an estimated ROI between 60-120%. Don't go over the top, keep longevity and potential buyers in mind when you're making your renovation plans.
Look for areas in the kitchen that you can either replace or do some touching up. It could be adding a backsplash, restoring cabinets, doing up your floors or replacing counter tops, tiles and fixtures.
source:  thealchemistskitchen.blogspot.com
2. Master Bathroom
Your bathroom renovation doesn't have to be expensive, you just need to aim for it to come out looking modern and functional. Most contractors would recommend renovating the shower area first – build in a frameless glass stall or reglaze the good ol' tub to make it look brand spanking new.
Other add-ons that can add value are space saving cabinets, a walk-in wardrobe and creating an en-suite bathroom if the master bedroom hasn't got one yet. Replacing your fixtures is something you can DIY instead of hiring a handyman.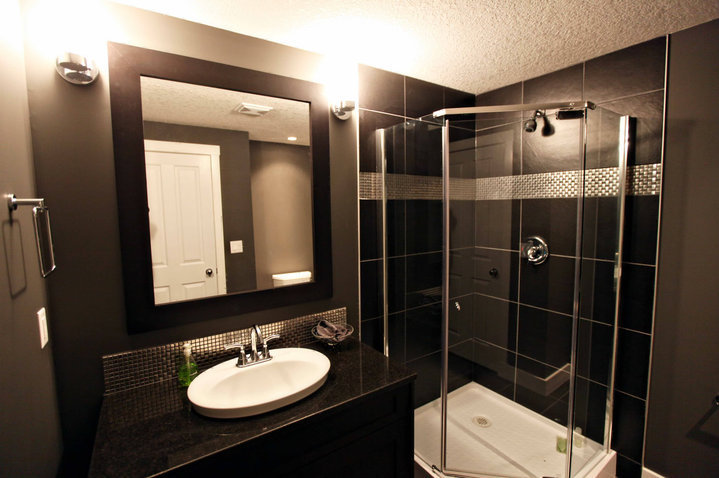 source:  discprocessing.ca
3. The Front Of House
About 90% of buyers would make a decision if they're interested based on first impressions – the outside of your house. Refresh tired looking doors with a new coat of paint or finish and do a bit of landscaping for the front garden to make your property more attractive. If you're thinking of adding some plants to your entrance or garden, ask your landscape designer or nursery on the best planting variety for your soil and based on your availability to maintain them.
source:  homeimprovementpages.com.au
4. All Your Walls
Cracked walls and peeled paint could put buyers off, or just leave them unimpressed. Repainting and restoring your walls is a quick way to make your house look new without any major renovation work provided that it's done properly.
Fill in small gaps and as your renovation contractor to fix damaged parts. It's a safe step to leave your walls bleach-white, but following a neutral colour palette can also increase your home's saleability – colours like beige, white, black and grey appeal very much to buyers with a modern taste.
source:  oldhouseweb.com
5. Electrical Wiring & Plumbing
These are one of the most common requests made by home buyers. Nobody wants to move in and then find out that the lights are flickering and the water isn't flowing well into the toilet. Do a thorough check in your house for electrical wirings and plumbing that are outdated or faulty.
Consider if there are enough power outlets for all the rooms in the house including the ones for air conditioning.
source: wonderfulengineering.com
Get more advice on renovation and design add-ons that can increase your house value from Kaodim's list of experienced house renovation contractors and interior designers.
If you need an extra hand to complete your renovation, check out our team of carpenters, handyman, painting services, cabinet makers, tile suppliers and flooring installation companies available in Malaysia – make an enquiry and compare your free quotes!
--
Kaodim matches you with vetted and verified contractors, plumbers, electricians, personal trainers, and almost any other type of service providers. Receive customised quotations, personalised profiles and user reviews to hire with confidence.