More than the immediate details of a property like its room layout, square footage and clubhouse facilities, its surroundings and neighbourhood play a big part in the inhabitants' overall quality of life. This, in turn, contributes to the value of properties in that location.
To help you with your property analysis, we have narrowed down 10 neighbourhood-related criteria and attributes usually considered by property seekers and the neighbourhoods with the most of each.
1. Majority Ethnicity
Economic and social activities during the early development of the country have shaped the distribution of its population. Although Malaysia has evolved throughout the years, we've found that certain demographics gravitate to these particular neighbourhoods…


Malay
Cheras - 80%
Shah Alam - 66%
Setapak - 60%
Gombak - 57%
Chinese
Kuchai Lama - 65%
Kepong - 47% 
Seri Kembangan - 40% 
Indian 
Brickfields - 35%
Bangsar - 21% 
Non-Malaysian / Expatriate
Mont Kiara - 56%
KLCC - 46% 
2. Schools / Colleges / Universities
Students flock to these urban locales for quality education, resulting in properties that are sought after by investors looking to capitalise on student rentals.
3. Hospitals / Medical Centres / Clinics
Properties in these locations with short-term rentals are popular with outstation patients who are undergoing longer treatment programs (or their family members), yet wish to stay in a more comfortable, homey atmosphere.
4. Shopping Malls / Supermarkets / Markets
One of the oldest roads in Kuala Lumpur and in fact the whole Klang Valley that was built more than a century ago, we've no doubt that in the past traders and vendors set up shops to sell their wares along its long stretch. Today, history lives on, housed in this location's gleaming new buildings and bustling markets.
5. Convenience Stores
Need to get some urgent midnight grocery shopping done? Or find yourself out of toothbrushes when visitors arrive late at night? If you're living in one of these places, there's no need to panic as you're never too far away from a convenience store.
6. Places of Worships
With its long history as a point of convergence for multiracial and multicultural communities, the winner of this category makes perfect sense. Its places of worship come in all shapes and sizes, from nostalgic architectural marvels to hidden sanctuaries to gorgeous new structures.
7. Banks
While Kuala Lumpur might be the main central business and finance district of Klang Valley, we've discovered that it is not the locale with the most banks. That top spot goes to...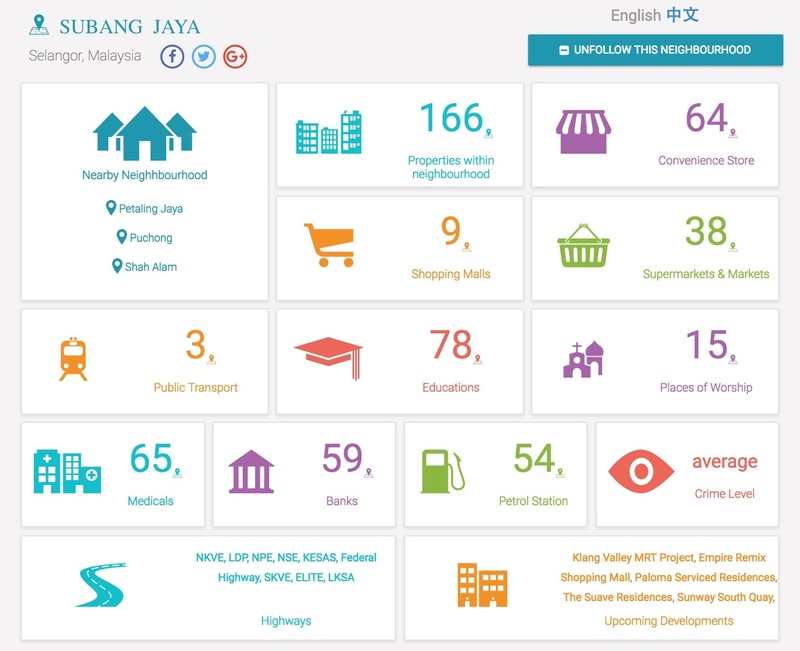 8. Petrol Stations
Not only is this busy location surrounded by other towns; it is also situated at the gateway to more outback areas like tropical forests, making it a transit town where drivers stop to get fill up their tanks.
9. Properties
Developers evidently see potential in these places, as properties are mushrooming on the remaining limited land parcels in these matured neighbourhoods.
- KLCC
- Cheras
- Klang
- Subang Jaya
10. Restaurants
According to food app Zomato (https://www.zomato.com/), one of PropSocial's collaborators, these neighbourhoods with the most restaurants per capita are where you can go to find well-established eateries and hot new tables alike.
Bandar Sunway - total of 453 outlets
Bandar Utama - total of 313 outlets
USJ - total of 305 outlets
Ultimately, a desirable neighbourhood is utterly subjective – a combination of all the characteristics that are most important to you. Factors like whether the property you're seeking will be situated within an integrated development with ample amenities and services of its own also play a part in determining the characteristics you find vital in a neighbourhood.

Let us know your must-have neighbourhood attributes in the comments below!