The holiday season is an opportune time to dress up your home with a new edge. Why don't you use this festive season to unleash your creativity by preparing a magnificent festive table for a special meal; or simply rearranging a room in your home with ideas that inspire you?
Most of the ideas won't cost you much. If you have time on your hands and some well-deserved extra cash in hand, you can even take these home decoration ideas further and celebrate your Christmas with a twist.
Here at PropSocial, we're giving you 25 ideas that will definitely ignite your creativity, and make your unique and thoughtful Christmas home decorations to be appreciated by everyone.
1. Set Your Table for the Celebration
Thinking of a family feast served with wonder and joy? Be ready with extra drinks and lots of desserts because everyone is going to stay on for more with beautiful crockery, glassware and table décor. You can even glam your festive table up with some glitter and gold!
2. Wrap it Up
A good guest won't show up empty-handed. Wrap up your gifts that are ready to be placed around the Christmas tree for decorations and be given out during the gift exchange! Clothing, clocks, vases, socks, books, fabrics, cups and ceramics – all the cool gifts you can get. First impressions count, and good gift wrapping will make the gift more desirable.
Enhance the gift-giving experience and create a beautiful display under the tree. Take pride in your home!
3. Flower Power and Miniature Evergreen
Coming together to share a meal is a vital tradition. Ingenious decoration, such as floral arrangements and miniature evergreen, accompanied by gracious manners create a sense of harmony and order.
A table top plant as the holiday table's centrepiece, topped with a ribbon and placed in the middle of those mouth-watering dishes, brings in extra Christmas spirit even into smaller spaces.


4. DIY Paper Decorations
Maybe you have a hidden talent crafty enough that you can cut intricate paper snowflakes or Santa Claus. DIY paper crafts such as little triangles of confetti and Japanese origami makes you feel like you're fully in the season and continuing a holiday tradition you'll never retire.
Instead of the typical red and green palette, you can mix the paper decorations with some bright colour elements, and set them at places that will catch your guests' attention!
5. Express Yourself with Christmas Tree
The Christmas tree is just the start of all our jolly ideas! Go bright and bold with the Christmas tree in your home! No Christmas tree is complete without fun ornaments — twig bird nest, fairy lights, stars Santa figurines, lanterns, gifts and linen as tree skirts at the base of the tree.
The linen for tree skirt can be store-bought or anything at home that you have put aside for some time. Disguise the unsightly Christmas tree and make it a star of everyone's December party.
6. A Welcoming Wreath
A stylish wreath can be displayed at the front door to be joined with ribbon and embellished with bright ornament, to welcome your guests and your family members. Instead of buying a boring wreath from the store, you can make one yourself with materials you can find in your own home or garden. For instance, twigs, straws, wires, threads, with added flowers, leaves and herbs.
And who says a wreath always has to be a circle? Come up with your own shape with a change from the typical traditional wreath.
7. Scarf Wreath
So much to talk about wreaths. Taken from #6, it doesn't get any easier than a colourful scarf wreath. Yes, we repeat. Scarf wreath. Just tie the scarf into a circle and hang it on the door or window. 10 minutes is all it takes to make one, with no glueing and cutting involved! Make your wreath pop with your single and solid-colour door. You can also put the wreath on the windows for an added festive touch. Try it now!
8. Be Bold with Your Furniture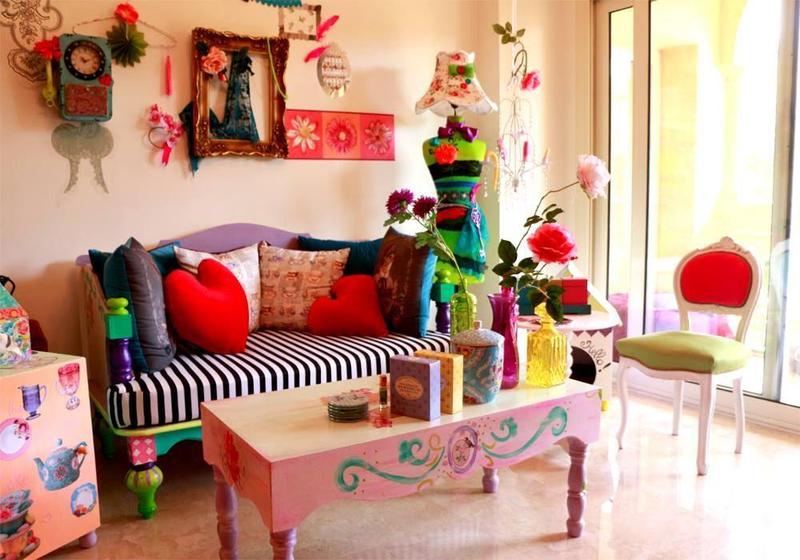 The sofa in the living room can go against the usual decorating rule of keeping colour of large pieces neutral. In this wonderful season, layer a piece of furniture cover to light up your furniture and your room with a simple touch. From the traditional red and green to orange, violet, pink, etc., mix designs together to create your own fabulous sanctuary.
Be bold by using some eye-popping small furniture items and stretch the holiday fun throughout the month of December.
9. Chalks for Holiday Doodling
Goodbye formal school boards! If you have kids, a chalkboard wallpaper can simply be pasted on walls to become your kids' art canvas, allowing them to showcase their imagination. It can also be used for everyone to write their thanksgiving messages. It washes off easily and the drawings bring colours and fun to your doorstep, sidewalk, or depending on where you place your chalkboard wallpaper!
10. Don't Forget the Socks
We definitely keep on with the socks tradition. Let your kids eagerly claim the little surprises you hide inside with the beautiful socks hanging on the wall or mantel (if you have one).
Again, be a rebel when it comes to colour! Don't limit yourself to just red and green. We're all for making new traditions, this can be DIY as well. Just find yourself some clean socks (Yes, please!), and cut out the template of different beautiful designs that you can either print online or from old clothes, sew or glue them onto the socks! And - voila!
11. Christmas Card is Precious
Nowadays, people use too much of email to send out season greetings. So how precious it is when you still receive Christmas card from the people you love? As cards arrive in the mail, don't recycle them! Clip them to a ribbon and make a garland of personalized messages. Turn them into works of art along with your precious family photos. Then, hang the garland on the wall or the bannister of your stairs.
Display holiday greeting everywhere!
12. Free Paper Garland Pattern
No Christmas cards to make use for the garland suggestion in #11? No problem! Online resources are really useful these days, especially when you are short of time and also — money. So, here are some suggestions: draw your own design with colour paper and cut them out; print out the ready templates online, cut and glue; and if all above don't work out, old magazines are your best friend — DIY paper craft (see #4).
Things that you need in this project: paper, scissors, glue, and some creativity. Cost? Basically zero. Well, unless you don't have those stationeries ready and need to get them at the store.
13. Reuse, Recycle, Redesign!
Recycling to the rescue! Look beyond your box of ornaments this year and pull together a mish-mash of items, from pennies to unused Halloween candies, vintage playing cards, Chinese paper garlands, Chinese red packets, mini lanterns, and rubber band balls. Everyday items like these actually make whimsical tree trimmings and dazzling home decorations.
Here are some tips though for playing with colours though. Gold and copper amplify the energy of red. Pinks and oranges make your home playful. Permission granted to mix them all! It's Christmas!
14. Take Ribbon Way beyond Gift Wrapping
Even after Christmas, these ribbon decorations can be your showstopper decorations that can stay up long after the tree comes down. Here is what you can do:
- Use it as napkin rings to your feast. Dress your napkin up and make your holiday table complete.
- Use it as plant decorations or to make a garland.
The possibilities are endless. Let us know if you have more ideas!
15. Sweet Charity
Giving feels good, and research shows that it's a boon to your well-being as well. Spread the love and purchase the crafts, soaps and toys made by those less fortunate. Most of the proceeds will be put to good use for their daily needs.
For a quick and minimalistic decoration, put all those crafts and toys in a pretty display box for your guests to question their origin! You can even donate them away after Christmas if they are still in good condition. What could be better than this?
16. Light up Your Candles
Remember to use those assorted glass jars that are sitting around your house for ages as your candle holders, and put the white candles in them—to give your home a festive glow.
Make good use of excess Mason jars by turning them into an oil candle lamp. Just simply fill the jar with olive oil and light up the floating wick! (We suggest olive oil as it doesn't give off unpleasant smell). Plus, not everyone's house has a fireplace. You can just fake one by using this idea in a tiny space!
17. Add an Irresistible Seasonal Scent
Make your home smell like the holidays by making use of some cinnamon sticks which you can simply get at any grocery stores. Some pandan leaves (scientifically known as Pandanus amaryllifolius), star anise, orange peels, pinecones, or other spices, will help to create the Christmas-y scents too — cozy, sweet, refreshing, or exotic, you name it.
Put those unused scented sachets, essential oil to good use for everyone to enjoy.
18. Christmas Chandelier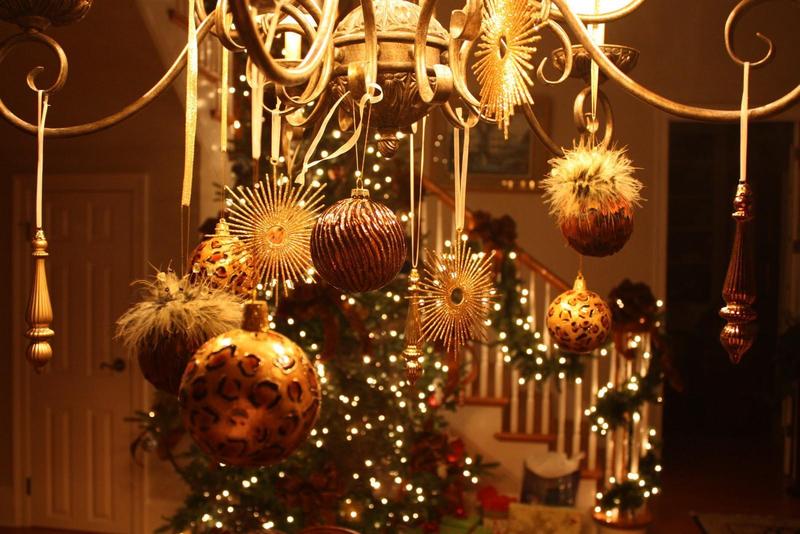 We understand that not everyone has a chandelier at home. However, if you do have one, remember to add the extra holiday cheer to your light fixtures! For examples, drapes, ribbons, glass ornaments etc., for a modern yet rustic look.
Otherwise, you can just wrap them up with all sorts of Christmas string lights, an illuminating holiday update definitely. Your room is now bursting with joy!
19. Curtains that Bring in Lights
At the windows, or at the entrance of your porch, create a welcoming and cosy look by hanging some new curtains with a sharp and festive colour. If you think changing a new curtain takes time and money, you can also put some designs or ornaments onto the existing curtains that can be taken off easily!
Creativity is about striking the balance between creating something beautiful and letting the experience happen naturally.
20. Lit-up Tree
It's not just the Christmas tree that needs your attention. If you have a tree (or trees) in your garden, wind strings of lights around the trunk and the branches. Turn on the lights and you can see the full shape of your tree at nights. Make your neighbours envy!
You know what? You can even go all out by coming up with the most over-the-top decorations — winding strings of lights all over the lamp posts, fountain, pillars, plants, and even your whole house to create a Christmas wonderland! There is a house that does that every year in USJ 11, Subang Jaya! Check it out here.


21. Create a Sea of Lanterns
Be it indoor or outdoor, anywhere on a flat surface, in your garden or on the driveway, lanterns can be a good idea. Just install light bulbs (or you can use candles) in semi-transparent white containers (e.g. 1-gallon milk bottles), and your home will be glowing with warmth and everyone can spot your house easily. Well, Santa definitely won't miss it!
22. Inspire Everyone with Well-lit Quotes
Again, you are going to need a lot of lights for this Christmas. Twist and turn the strings of lights into inspirational words or quotes in your living room. A quick and powerful pick-me-up for anyone who sees it.
If you have the string of quotes placed in your room, be ready to wake up and feel inspired every morning!
23. Jars of Fairy
Attention to all Mason jar fans! All you need is just simply fill the jars with a cluster of string lights, then place them on the table top at the entrance or hallway that is visible to you and your guests. A perfect corner to tell the kids great stories! Tips: place them in front of a mirror to create an illusion of a brighter display!
24. Paint Your Doormat
No one will miss the entrance with the doormat of festive design for added cheer. Just pull out your spray paint for this easy task, and step up your entryway in an instant.
If you gravitate towards the humorous side, sew or spray a funny quote on your doormat instead.
25. Try On Different Christmas Themes
Turn your home into a Christmas home by trying out different themes, from retro to modern, or minimalistic to lavishing. You can also create a funky theme with lots of playful elements — as long as they are doable. Plus, who says superhero theme is only reserved for Halloween?
There's no place like home for the holidays. That's why we say Christmas is the most wonderful time of the year. Strike the right balance between aesthetic and inspiration, and go all out on your home decorations in this HO-HO-HO season!
Don't forget to check out PropSocial's Discussion page for more interesting and useful articles.
(Written by: Sonder, 15th Dec 2017)