Your online listing has been up for months, or even for years. It's a good property, in a good location, with a good price, but so far you are getting no offers. Why is that? The property on your listing doesn't have any bad past, bad management issues or, worse, horrific things that have happened inside.
Before you start scratching your head and reaching for the mouse to remove your listing, let us indulge you the secrets to why perhaps nobody has enquired about your listing. Are you ready for it? Because it's the harsh truth. Here we go:
Your property photos are terrible!
WAIT, before you start throwing those bricks and dangerous objects at us, let us explain why.
1. Your property photos are shot in low-light
While perhaps you are trying to evoke an atmosphere of mystery and calmness, low-light photos do not do justice for properties. Furthermore, low-light pictures make it difficult for prospective buyers to truly view the property, and we have even heard of cases where agents take low-light pictures so they can cover up property defects such as cracks, paint peels, etc.
(Picture credits: Studio Dejavu)
We recommend: Open up the curtains (if there are any) and let natural light shine into the room. This helps to make the space look bigger. Plus, it sends a message to the prospects that the property is in a nice, brightly-lit area. 
2. Too much clutter and nonsense
Clutter is something most of us hate, and when we see photos of a property looking cluttered, it turns us off - because who wants to imagine living amongst clutter? Of course, before actually purchasing property, we would envision ourselves living in it first:
"Here's where I'll put the sofa! It'll be a nice yellow daybed and it'll look super nice against my white walls!"
"This room has plenty of light, I can imagine my bed just there and my favorite table-stand next to it."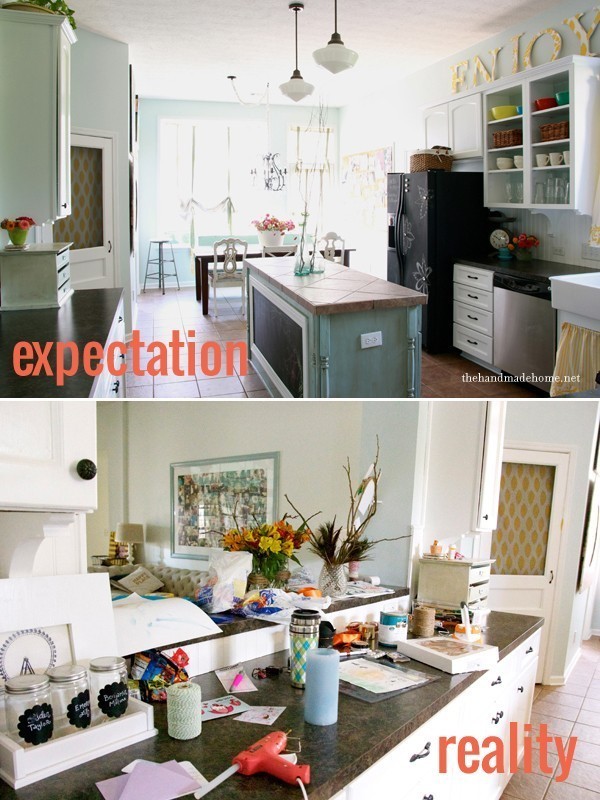 (Picture credits: The Handmade Home)
Yet these are things we can't really imagine when we see property photos with old newspapers, cereal boxes, shopping bags and a ton of shoes in the hallway. It makes you even wonder if the property is for sale given the amount of things the previous owner still has in the photo. Are they even going to move out?
We recommend: We hate to say it, but let the previous owners fully move out before you start taking photos and uploading your listing. Even if you can't, get them to remove as many of their personal belongings as possible that will NOT be sold along with the house (if they are selling it fully-furnished).
3. We see you…
Taking property photos doesn't mean taking a #selfie or a #mirrorselfie and, sorry, we can totally see you in that photo. And it's not just you, but property photos should not feature people at all because, well, you're selling a house and not a person. Plus, a person in the view would be distracting.
(Picture credits: FixThePhoto)
These kinds of pictures happen often when taking photos of rooms with mirror or mirrored surfaces, such as bedrooms and even living rooms, and are all the more glaring and obvious when it's a night shot with an open window. 
We recommend: Take photos from an angle that portrays the room perfectly and avoid mirror/glass surfaces. If it's a property that focuses on glass windows and walls as its unique selling point, try to minimize the human's presence in the photos.

4. You're on the default portrait mode
And by portrait mode, we mean the vertical, upright view. This means your photos are larger in height than in width. Doing this squeezes the objects into the frame more, which means that you've probably taken 10 steps backwards to get everything in the frame and there may be too much extra space at the top and bottom of the picture. 
(Original picture credits: Habitat-MY)
We recommend: Tilt your phone sideways and shoot in landscape view. This means the width is larger than the height, and it also makes it easier for cropping into squares. Alternatively, phones nowadays come with camera features that let you change the sizes and dimensions of your photos, so you can just switch to 'square' instantly!
5. Photo quality is lower than the property floor
We're exaggerating, but our point is that the photo quality is just too bad, it looks like it could've been taken with a vintage Nokia handphone. Certain aspects that affect the photo quality of properties include the clarity, sharpness, and whether there's a lot of noise or not (particularly for photos taken in low-light/dark areas).
(Picture credits: Food4Rhino)
We recommend: If you've got a buddy with a professional camera (DSLR) or even a point-and-shoot one (oldie but goodie!), shimmy up to them and lend it to you for a little property shoot. Otherwise, there are professional property photographers out there that are able to do just the trick for a minimal fee. 
Conclusion
A picture speaks a thousand words, and truly it does. To interest and engage prospective buyers, you must first lure them in with their eyes. Just like how hotels and Airbnbs feature beautiful pictures of their rooms and facilities online, isn't that how you too need to attract customers? Based on pictures alone, would you rather live in a home that looks dark, dingy and unsafe, or a home that is filled with bright light where you can see every corner clearly?
(Written by: Ashley Ooi, 18th September, 2018)