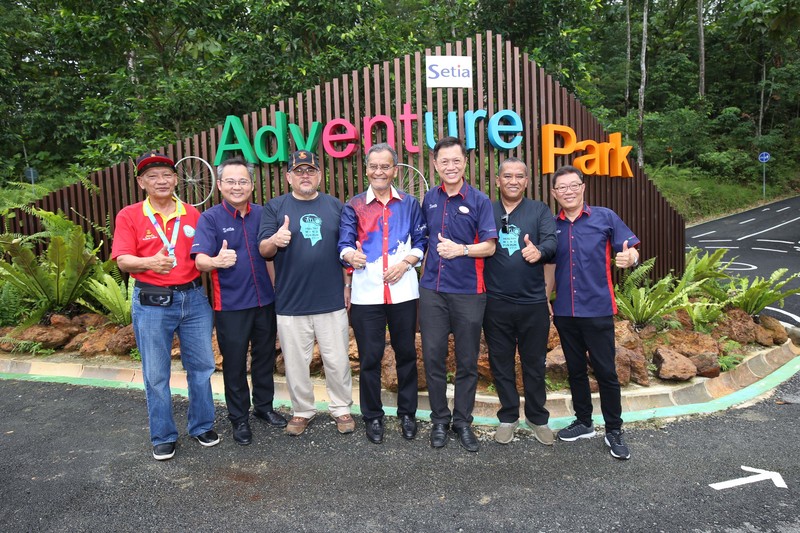 Minister of Health, YB Datuk Seri Dr. Haji Dzulkefly bin Ahmad (centre), Executive Vice President (EVP) of S P Setia, Datuk Kow Choong Ming (3rd from right) and Koh Sooi Meng, General Manager of Setia EcoHill (2nd from left) at the opening of Adventure Park, Setia EcoHill 2.
S P Setia Bhd, saw the opening of its 'Adventure Park' in Setia EcoHill 2 by Health Minister Datuk Seri Dr. Haji Dzulkefly bin Ahmad today.
The said park is fresh from its recent victory, at the Malaysia Landscape Architecture Awards (MLAA) for an Honours mention in the Landscape Development Award – Developer & GLC category.
The park launched today, is a successful instalment of an existing recreational park within the township dubbed 'South Creek' experiencing thronging visitors daily, from within the township and neighbouring residential located close by.
Adventure Park, creates the perfect backdrop for outdoor activities. The 17-acre wide plinth of land, provides an ideal spot for cycling enthusiast and nature lovers offering a myriad of activities, for one to consistently stay active.
Residents visiting the park, can keep themselves occupied and fit with activities such as hiking, jogging, mountain biking as well as bird watching.
A total of RM3mil was invested to ensure that the Adventure Park, lives up to its name. Part of the aforementioned cost, went into ensuring that 95% of the trees at the original Bukit Tempurung site were conserved during its construction.
Adding to that, 60 parking bays monitored by a 24-hour CCTV system is currently in place as well as a dedicated police patrol monitoring the park; to ensure the safety and convenience of those frequenting the area.
Setia EcoHill 2, plans to unveil its newest launch; linked semi-detached homes christened Frossa, next week. This will further position the self-sustained township as an offering that holds potential appreciation, especially as the township continues to unfold in the years to come.
(27 April 2019)