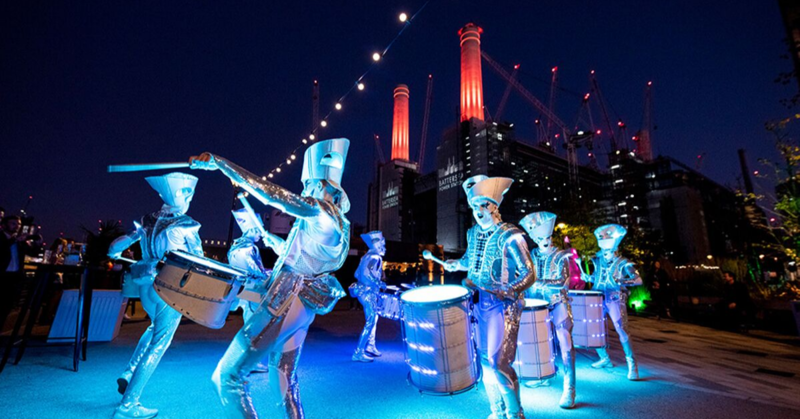 Drummers entertaining those who attended the celebratory night.
Battersea Power Station hosted over 600 guests, at a carnival-style inaugural 'Power Party' on the site of its newly opened Coaling Jetty last week, to celebrate the tremendous progress made on the redevelopment project and its surrounding area into a new, thriving destination for London in the United Kingdom.
Guests gathered at Circus West Village, the new riverside neighbourhood which forms the first chapter of the regeneration project, which led onto The Coaling Jetty; the first Grade II* listed historic parcel of the Battersea Power Station redevelopment now open to the public.
The Jetty donned a fanfare mood with light music, stilt walkers as well as drummers. Poised as a focal point of the event, the chimneys of Battersea were also lit up in brick orange, as a sign of gratitude to those that are making the Battersea regeneration a reality.
Malaysian high commissioner, H.E. Datuk Mohammad Sadik Ketergany, Marquess of Salisbury Lord Thomas Strathclyde, Battersea Project Holding Company Ltd chairman Dato' Ahmad Pardas Senin and Battersea Power Station Development Company (BPSDC) chairman Datuk Wong Tuck Wai were present at the event.
"I am incredibly proud of what we are achieving on the Battersea Power Station project. The first phase of this regeneration project is already a big success and a showcase of what is to come with the restored iconic Power Station opening its doors in 2021 and Electric Boulevard shortly thereafter," Ahmad said
He added, "We, the shareholders, look forward to continue making significant headway on bringing this remarkable heritage building back to life for Malaysia and the wider world to enjoy."
Wong expressed, "Together with Dato' Ahmad Pardas, I was delighted to host the Power Party last night to celebrate the power really being back on at Battersea. We have come a long way since purchasing the site in 2012 with the first part of the dream already a successful reality with a new vibrant community having formed at Circus West Village.
As long-term stewards of this iconic project, we believe that celebrating strong momentum and progress is really important and we look forward to the next big milestone which will be the opening ceremony of the restored Power Station in 2021."
Other guests included; senior representatives from Battersea Power Station's Malaysian shareholders, S P Setia, Sime Darby Property and the Employees Provident Fund (EPF), leading influencers of the industry, business partners, advisers, purchasers as well as residents.
(26 September 2019)