Do you want to visit some of the coolest and hippest cafes in Petaling Jaya? If yes, we created this list of instagrammable restaurants serving some of the best food in the city.
This cafe was named in honour of J.D. Salinger's iconic novel and established by the owners of the successful Wild Sheep Chase Cafe in Taman Desa.
Opened in October 2018, the new cafe serves dishes that gained popularity in Wild Sheep Chase Cafe, such as their signature flat white coffee and decadent soufflés made from organic eggs.
As for new dishes, try their batter-fried chicken thigh on sweet potato rösti with guacamole and stir-fried Chinese broccoli with garlic. Another is the deep-fried macaroni and cheese with omelette or sunny-side-up eggs, and French toast topped with lots of fresh fruits. Another top seller is their very own specialty ice cream that comes in different flavours.
Located in a revamped two-storey shophouse in Section 17, this cafe features a chic decor. For instance, the owners retained the shop's original floor tiles to reminisce the 1970s. Meanwhile, the inner courtyard boasts a glass roof, where the owners placed large plants to create a tropical haven.
This is an uber stylish cafe that believes pink is beautiful. In fact, the interiors are draped in pink. The tables are light pink with golden steel frames, while the chairs are pink shaped hearts.
But apart from being a pink paradise, this cafe is known for serving super-fresh healthy whole foods. For instance, their Granola Bowl is filled with strawberries, blueberries, bananas, cornflakes, granola, and honey. The cafe also offers other kinds of granola bowls, like Berry Berries, Peanutlicious, Choc 'O' Time, and Tropical Vibes.
If you're craving protein, head down to Damansara Utama and try their Fuel Bowl, which consists of crab sticks, salmon sashimi, tamago, ebiko, tomatoes, corn, parmesan cheese, fried shallots and seaweed. Each bowl is made fresh upon order and splashed with a mayo lime secret sauce. The cafe also offers Japanese food like Soba, Unagi, Onsen Egg and Tamago Sushi as well as Corn and Mango Mochi.
Image source: facebook.com/pokok.kl
Situated within MAHSA University, this is one of the trendiest cafes in Petaling Jaya due to its spectacular glasshouse design. The beautiful glass architecture lets in lots of sunlight and is complemented by bricks walls and black metal sections to create a minimalist ambience.
Opened in October 2018, the greenhouse-like cafe offers healthy and delicious food. There's Norwegian Salmon Benedict that features smoked salmon on rye bread, topped with two delicately poached eggs drizzled with Hollandaise sauce, along with sautéed mushrooms and fresh veggie salad.
You can also opt for the classic Nasi Lemak, the fantastic truffle fries, creamy spinach in béchamel sauce, croissant with sautéed mushrooms and scrambled eggs, and avocado mash on rye bread with poached eggs.
The cafe also serves interesting pasta like Chili the Padi Pesto Pasta. Their dessert options won't let you down, such as their Waka Waka Gelato and the popular Chocolate Lava Cake with fresh berries & ice cream.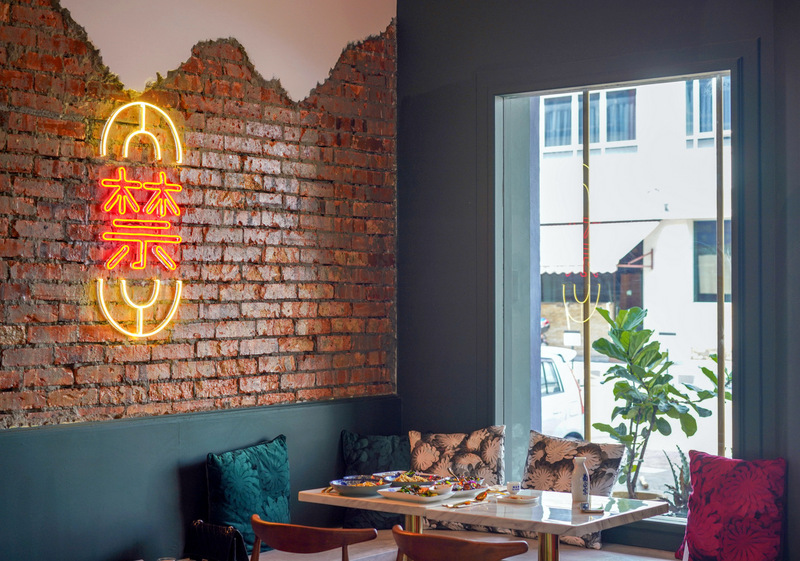 Image source: eatdrinkkl.blogspot.com
This cafe has a catchy name, but don't worry it's not a front for something illegal. Instead, the name means there's nothing forbidden in re-inventing traditional Malaysian Chinese cuisine to level up their taste and make them more tantalising to the senses.
For example, the cafe makes two superb versions of pork belly. There's a soup akin to Bak Kut Teh, but is served with dried squid, ladies' fingers, onions and chillies, while those craving a crispy variant can opt for the pan-fried variant drizzled with aged Chinese wine and topped with bell peppers.
Another top dish is the grilled squid with okra, long beans, eggplant and winged beans splashed with a special chilli paste. You can also try the smoked duck breast with garlic, mushrooms and olive oil.
In terms of appearance, this cafe located in Ara Damansara fuses Chinese and Western design, complemented by lucky Feng Shui elements. One notable art piece is a portrait of a maiden, whose face is partly concealed by a mask.
V. Hideaway Cafe
This cafe is a sanctuary for pastry lovers, particularly those who are fond of butter cakes. Made based on a family recipe with a few innovations, these confectionary delights are freshly baked and there's no shortage of people clamouring for these. Aside from the classic butter cake, they also offer other versions, such as Orange and Lemon Orange Poppyseed.
Another bestseller is Hideaway's own version of the Victoria Sponge Sandwich Cake that's topped with raspberry jam. Another is the Pandan Gula Melaka, which oozes the fragrant aroma of screwpine leaves and sprinkled with coconut flakes.
This cafe features yuletide decors. For instance, there's a large Christmas tree near the main window, but the most eye-catching one is the renovated fireplace. Painted in white, the fireplace features an assortment of ornaments -- there's a white bunny doll, a cute fox, and an orchid with large white flowers.
Image source: lifestyleasia.com
If you're looking for artistic inspiration or a place to energise you, then this is the place to be. This Instagram worthy cafe features hospitable Scandinavian-style exterior. You can chill at the laid-back Acapulco chairs, surrounded by green leafy plants, large verdant portraits, and dark green walls.
The most sought-after food here are Har Jiong Chicken Wings, Har Jiong Chicken Chop, and Har Jiong Kai Burger, all of which are nicely prepared and comes in large portions. Another popular fare is the Crab Cake, a deep-fried tasty patty served with lemon thyme sauce on a bed of mashed potatoes, and fresh vegetables.
For brunch, the cafe serves Muse Breakfast, a large platter of white toast, scrambled eggs, sausage, smoked chicken ham, and sautéed mushrooms. Another option is the smoked duck, toast with avocado, cheese and salad. Another killer dish is the Shrimp Aglio Olio. For dessert, the cafe offers Pound Cake, Mille Crepe, Chocolate Moist Cake, Cheese Cake, and Cookies Skillet with Ice Cream.
Image source: taufulou.com
Goddamn! The food in this Italian resto is terrific! You'll likely utter this after you've tasted the dishes here. At this cafe, you can opt to go a la carte, or choose the 7-course tasting menu, with which you will be provided with portions of the cafe's signature dishes.
These include the Beef Tartare, which consists of thinly sliced raw Australian wagyu beef, served with black garlic aioli and charred garlic scapes. Another is the Cured Salmon drizzled with a mayo and basil dressing, served with gremolata and thinly chopped jicama.
Another lauded item is their Highland Tomato, which is made from heirloom tomatoes grown in Cameron Highlands, and paired with fish roe, basil oil, and own ricotta. Another delectable dish is the Wild Rice Risotto, which is composed of Pecorino cheese and three kinds of rice -- glutinous rice, black rice, and Sabah's famed Bario Rice. Lastly, their strip loin wagyu beef is served with fried kale, grilled whole onions and creamy beetroot puree.
Located at The Hub, SS2, the cafe's interior is simple but elegant. There's lots of floor to ceiling windows and granite counters, evoking the majestic terrain of Piedmont in Northern Italy.
Share your favourite place with us by commenting below!
(Written by G. Zizan, 17th December 2019)
Like
· 1 person liked this