Mah Sing's Founder and Group Managing Director, Tan Sri Dato' Sri Leong Hoy Kum presenting the key unique selling points of M Luna to the esteemed guests and senior management team of Mah Sing.
Mah Sing Group Berhad (Mah Sing) has on the 18th of December officiated the opening of the M Luna sales gallery, their second residential development in Kepong. The grand opening of M Luna's sales gallery was officiated by Malaysia's Special Envoy to China, YB Tan Kok Wai. Also present during the event were Member of Kepong Parliament, YB Lim Lip Eng; Mah Sing's Founder & Group Managing Director, Tan Sri Dato' Sri Leong Hoy Kum; Mah Sing's Chief Executive Officer, Datuk Ho Hon Sang; Mah Sing's Chief Operating Officer, Yeoh Chee Beng and the senior management team of Mah Sing.
According to YB Tan Kok Wai, Malaysia's Special Envoy to China, "Mah Sing is best known as a market-driven developer with a good eye in identifying hot spots to build products that meet current market demand. Kepong is an ideal location for home-seekers out there driven by its strategic location with easy access to highway connectivity and ready amenities as it straddles between various surrounding matured neighbourhoods such as Selayang, Segambut, and Sentul – to name a few.
"Additionally, I understand that the Ministry of Housing and Local Government (KPKT) has noted that there are no plans to build an incinerator in Kepong area and thus, this would serve as an impetuous to propel Kepong to remain attractive for future homeowners."
Tan Sri Dato' Sri Leong Hoy Kum, Mah Sing's Founder & Group Managing Director, said that, "We celebrate yet another major milestone for the Group with the grand opening of M Luna's new sales gallery, which is our second residential development in Kepong.
The grand opening of M Luna's sales gallery.
"This is our latest injection into the market, further reinforcing our commitment to continue to build affordably priced products of good quality at strategic locations to meet the needs of buyers' today. M Luna is the second project from our 2019 land acquisition trail, which is in line with our growth strategy to acquire lands that are ready for quick turnaround."
He further added, "M Luna is located 5km from Lakeville Residence in Taman Wahyu, Batu Caves, one of our matured residential developments which performed well in the market with its six residential towers 99% taken up-to-date. Leveraging on our proven track record and experience as a property developer for the past 25 years, we are optimistic that M Luna will be well received in the market on the back of its attractive pricing points, coupled with its lifestyle amenities and surrounding infrastructure."
The M Luna sales gallery is located only 5 kilometres from the project site, at Lakeville Residence. The 4-storey sales gallery is open to the public daily from 10am to 6pm, and all are welcome to explore scale and landscape models. Interested buyers can contact 03-62596188 or visit www.mluna.com.my.
Living an Enhanced Experience
M Luna is located next to the Kepong Metropolitan Park, and will occupy 5.47 acres of land. The development will carry a gross development value (GDV) of RM705mil, with the smallest unit at 700 sf and a launch price starting from RM385,000. Every unit will come with between 2 and 4 bedrooms, with either 1 or 2 parking lots.
Mah Sing's Chief Executive Officer, Datuk Ho Hon Sang said, "As a responsible property developer, we always place our customers' needs at the highest priority in everything that we do. Located strategically close to the Forest Research Institute Malaysia (FRIM) and adjacent to the 253 acres Kepong Metropolitan Park, M Luna will enable homeowners to experience the amazing Bukit Lagong Forest Reserve view. M Luna is one of our many projects that is designed in such a way that is affordable without compromising its quality, whilst providing our customers an enhanced living experience."
Home Buyers to Find M Luna the Ideal Choice
On the above statement, Mah Sing's Chief Operating Officer, Yeoh Chee Beng elaborates that, "Built with the "Luxury You Can Afford" concept, M Luna is targeted at first-time homebuyers, home upgraders, working professionals as well as young couples and young families. This bodes well for its overall theme, which celebrates Union of Families and Serenity of Living. The project is located at a prime area, which meets the buyers' current demand. It is strategically situated within matured surrounding neighbourhoods with easy access to various lifestyle amenities and is accessible via many access points and method of transportation."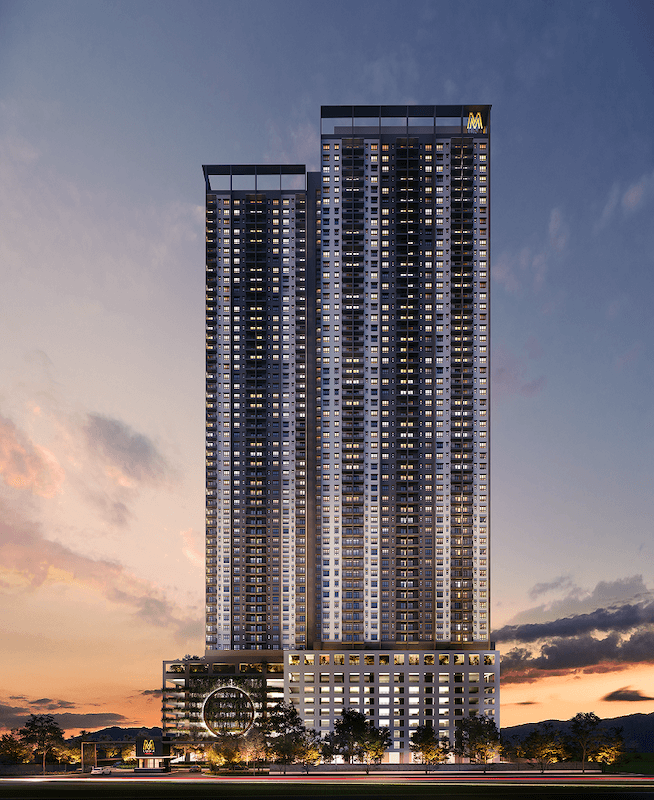 Creating an Optimised Living Experience with Lifestyle Amenities
The homes at M Luna have been created to provide residents with a complete lifestyle living. All the units bear a north-south orientation, and the building will be painted with low volatile organic compound paint. The parking ramps have also been equipped with express car park ramps for the convenience of motorists.
Built to be eco-friendly, M Luna holds unique features such as naturally ventilated bathrooms and cross ventilation in the common corridors. The garbage disposal system is run by centralised stream pneumatic waste management, all the common areas are lit by LED Lighting, and a rainwater harvesting is in place for the landscape. M Luna will also have two electric vehicle charging stations.
MRT Transportation
Residents of M Luna will be able to utilise the MRT services with the upcoming Metro Prima MRT2 Station only 3.3 kilometres from the condominium, and the Taman Wahyu KTM Station at 4 kilometres. The former is set to begin operations in 2021.
Well Planned Accessibility
The ingress and egress routes from M Luna are also well planned. The development is connected to the Middle Ring Road 2 (MRR2) and is in turn connected to the North-South Express Highway. Additionally, also in the pipelines are plans to improve the existing infrastructure including the construction of a road and two interchanges connecting Jalan Kepong to MRR2.
Ready Amenities and Infrastructure
Residents of M Luna will find that their new home is well located within a matured neighbourhood. Within short distance of the development are 6 public schools including SMK Kepong, St. Mary's School Kuala Lumpur, SK Intan Baiduri, SK La Salle 2, Jinjang (M) SMK Jinjang, and SJKC Jinjang Utara – all within a 6.5-kilometre radius.
Top-notch medical healthcare facilities such as UiTM Medical Faculty Splaying, Taipei TCM Medical Center, and Hospital Selayang are within a 5-kilometre radius. Also a stone's throw from M Luna are a number of shopping malls and hypermarkets such as Aeon Big Kepong, Aeon Mall Metro Prima, Selayang Mall, Brem Mall, and Pasar Borong Selayang, as well as Tesco Extra Selayang. The Kuala Lumpur city centre is only 14 kilometres away.
M Luna is expected to enjoy a large captive market as it is very strategically located close to the established neighbourhoods of the area such as Kepong, Taman Selayang Jaya, Batu Caves, Bandar Menjalara, Segambut, Taman Seri Gombak and Sentul – all of which are within a 3-kilometre radius of the project. These high density residential communities are highly accessible via major highways and trunk roads.
For more property news, please click HERE.
(19 December 2019)