(source from: lubbockintheloop.com)
We can do our part as responsible citizens of Earth to protect Mother Nature. In addition to recycling, reducing the use of plastic bags or even driving less to cut down on petrol consumption, we can change our cleaning habits with these useful tips for the eco-conscious as regular cleaning agents post harm to our water and soil.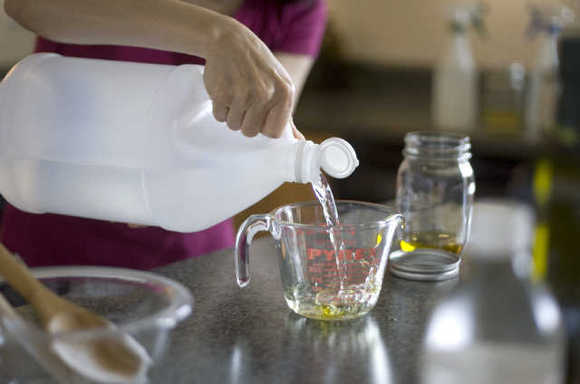 (source from: creativehomedesigner.com)
1. Vinegar
Vinegar is a safe and effective way to dissolve build-ups and to clean tough stains. Vinegar can be used for cleaning water marks on mirrors, dissolve grime in the bathtub and clean build-ups in your showerheads. In addition, vinegar can be used as a floor cleaner by mixing it with water and mopping the floor with it. If you have kittens and or small children, vinegar mixed with water can be used to remove the smell of urine.
Vinegar is also a lot cheaper than most cleaning agents so it's a great option for people on tight budgets!
2. Baking soda
If you are an avid coffee or tea drinker, chances are your white mugs would have been stained by brown coffee and tea marks. Baking soda, otherwise known as sodium bicarbonate, whitens porcelain mugs and even sinks. Just use a generous amount on your target area and scrub it using a brush or sponge.
(source from: homedit.com)
3. Lemons
Lemon is high in citric acid and thus, makes a good cleaning detergent with its low pH and antibacterial properties. The smell from lemons is refreshing too. No need for artificial scents!
Water marks can be very annoying especially when it appears after you have cleaned the surface. To clean hard water marks on your shower head, taps and shower doors, use the juice from lemons to make your expensive fittings look brand new.
4. Toothpaste
There's a reason why coasters for mugs were invented. However, ever so often there will be a guest who will not use a coaster thus creating those annoying water rings on your wooden coffee table and dining tables. Apply some toothpaste mixed with some baking soda on a damp cloth. Rub it on the water ring. Then use a dry cloth to wipe dry and buff it.
(source from: awesomejungle.com)
5. Employ a green house cleaning service
If you are simply too occupied to clean on your own, you can always employ someone else to do it for you. There are an increasing number of green cleaning services out there to help get things spic and span while being friendly to Mother Earth.
Find one on Kaodim.com today and get up to five free quotes from your area's best professional cleaning services that offer both part-time and full-time maids.
--
Kaodim matches you with vetted and verified contractors, plumbers, electricians, personal trainers, and almost any other type of service providers. Receive customised quotations, personalised profiles and user reviews to hire with confidence.