With all the endless preparations and Hari Raya Open House, we know that cleaning the house can be a real chore. But don't worry, we have 15 easy solutions for you to try out at home to make your life much easier. There's no need for overpriced cleaning equipment, when you can utilise these daily necessities around your home to achieve amazing results!  
 Photo credit: realsimple.com
1. Clean The Drain With Salt
Is your drain moving very slowly these days? All you need to do is pour salt and hot water down the throat of the drain, and it'll be back to normal in a matter of minutes!
Photo credit: realsimple.com
2. Polish Chrome With Baby Oil
Who would've guessed that baby oil, apart from being an amazing skin moisturizer, would also have the hidden talent of being an effective chrome polisher? Just dab some baby oil on a cotton cloth and work the magic on dull chrome surfaces, including faucets. The result will dazzle you.
Photo credit: realsimple.com
3. Olive Oil Is a Great Stainless Steel Cleaner
Never underestimate the benefits of olive oil. Apart from saving the world through hair strengthening and the reduction of heart-related risks, olive oil also serves as a wonderful stainless steel cleaner. With a little bit of olive oil on a terry-cloth rag, blot out the stains from your stainless steel and shine with a dry paper towel.
Photo credit: tikkido.com
4. Eradicate Spilled Glitter With Plasticine Or A Lint Roller
Did someone accidentally knock over a jar of glitter? Don't fret. Just roll a fistful of plasticine into a ball and rub it over the glittery surface. Within minutes, the sparkly bits will be attached to the ball and your surface will be glitter-free! If you don't have plasticine, you could also use a lint roller.
Photo credit: creeklinehouse.com
5. Remove Dust From Lamps With A Lint Roller

Speaking about lint rollers, they're also great for removing dust from the delicate surfaces of your lamp shades. It's fast and totally easy.
Photo credit: homedepot.com
6. Dust The Ceilings With A Broom
Worried about spiderwebs collecting in the corners of your ceiling? Now it's time to sweep them off their feet! Secure a cloth over the bristles with a thick rubber band and utilise the long handle of the broom to reach the crown moldings of the ceiling.
Photo credit: realsimple.com
7. Masking Tape as Scuff Preventor
Worried about your vacuum leaving ugly black streaks across the walls? Just cover the edges of the vacuum head with a masking tape, so that it won't leave dark smudges of dirt when it bumps into walls and other surfaces.
Photo credit: electrodry.com.au
8. Rubbing Alcohol Removes Nail Polish From The Carpet
Yes, you heard that right. If you've spilled some nail polish on a carpet, don't panic. Apply some rubbing alcohol on a cloth and wipe the mess off the carpet – you'll be amazed at how effective this is!
Photo credit: doityourself.com
9. Rubbing Alcohol Also Removes Permanent Marker
Your child may have doodled all over the walls with *gasp* permanent marker, but rubbing alcohol is here to the rescue! Soak a small section of the cloth with this magic liquid and start gently scrubbing the walls or other surfaces damaged with permanent marker, and watch in amazement as the doodles disappear!
Photo credit: ovenu.co.uk
10. Clean Your Dirty Oven With Vinegar And Baking Soda
You don't need harsh chemicals for this task. All you need isare vinegar, baking soda, and 12 hours. First, you mix a half cup of baking soda with 3 or 4 tablespoons of water, then spread the paste throughout the interior of your oven. Be sure to avoid the heating elements. Let it rest for 12 hours, then wipe off the caked baking soda paste. Spritz vinegar into the scene and do a final wipe-down with a damp cloth.
11. Remove Water Rings From Wooden Surfaces With Hairdryer

Ugh, don't you just hate it when your wooden surfaces are stained with water rings? This is why you need a coaster. But if you're looking at removing these stains, just use a hairdryer and then add a little sheen to the wood with mineral oil to avoid the surface going rancid.
Photo credit: realsimple.com
12. Pick Up Broken Glass By Pressing Bread On It
Never pick up broken glass with your bare hands! Slip on a pair of gloves and use a slice of bread as a sponge for the broken pieces of glass.
Photo credit: realsimple.com
13. Clean Your Screens And Windows With Coffee Filters
Coffee filters are designed from tiny particles of absorbent disposable paper. Whether it's a dirty TV screen, computer screen or even a dusty window, now you can clean microscopic dust particles with coffee filters!
Photo credit: goodhousekeeping.com
14. Use A Cotton Swab To Clean Your Keyboard
Dip the cotton bud in isopropyl alcohol. With the machine switched off, lightly trace the crevices of your keyboard until the buds have collected the debris stuck between the keys.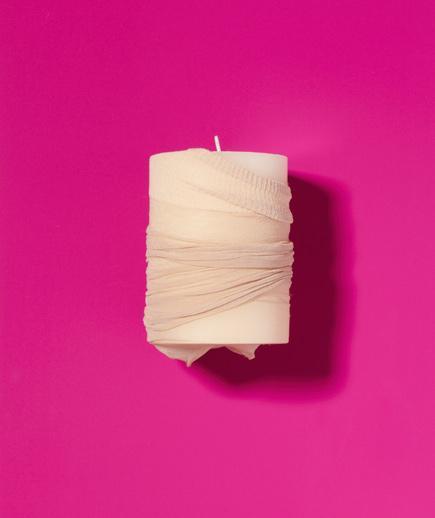 Photo credit: realsimple.com
15. Rejuvenate Your Old Candles With Stockings
Don't throw out your candles just because they're old and dusty. Dress the candle in a panty hose or stocking and roll it around inside the fabric. The dust disappears in seconds.
Cleaning just got way easier with these tricks! Nevertheless, we completely understand if you're struggling to juggle your chores and Raya preparations, which is why we'd love to help by introducing our professional cleaners to ease up the load. Just submit a request for cleaners on www.kaodim.com and within a short span of time, we'll connect you with cleaning services who will provide you free quotes on their pricings, so that you can compare rates, read their testimonials and make a defined decision before hiring.
Stay tuned for more cool cleaning hacks like these. If you know of any good ones that weren't mentioned here, just drop us a comment below!
--
Kaodim (https://www.kaodim.com) matches you with vetted and verified contractors, plumbers, electricians, personal trainers, and almost any other type of service providers. Receive customised quotations, personalised profiles and user reviews to hire with confidence.