IKEA is going to b in JB. Thats great news. 
IKEA pushes southBy Natalie Khoo /
TheEdgeProperty.com
| September 15, 2016 5:30 PM MYT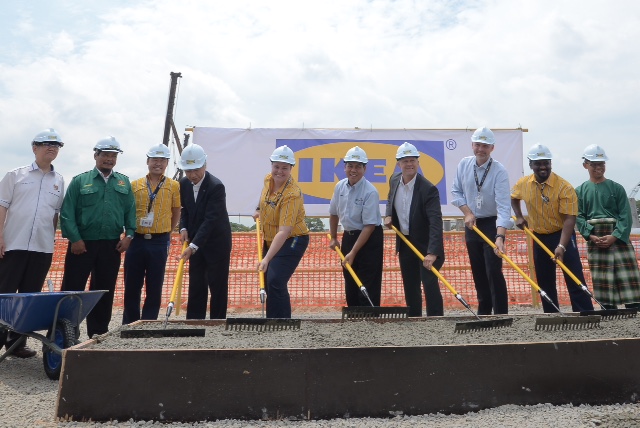 JOHOR BAHRU (Sept 15): Furniture store IKEA laid the foundation for its first store beyond the Klang Valley today at a cement-pouring ceremony here, the group said in a press statement.
Located at Jalan Desa Tebrau in Johor Bahru, the store is scheduled to open at the end of 2017 and will span 46,713 sq m.
"Our vision is to create a better everyday life for the people, so we are really excited to be building our first IKEA store in Southern Malaysia," said IKEA Southeast Asia managing director, Christian Rojkjaer.
"With the excitement that we have already seen in JB, I can't wait to open the doors of IKEA Tebrau. More than 1.8 million people live within a 60-minute drive to the store and we hope to serve the millions more from the state of Johor — and beyond," he added.
The ceremony was officiated by Iskandar Regional Development Authority (IRDA) chief executive Datuk Ismail Ibrahim, on behalf of Johor chief minister, Datuk Mohamed Khaled Nordin.
The store in Johor will include all the features IKEA customers have come to love: home furnishing inspiration in an expansive showroom, thousands of flat-packed products ready to take home the same day, a supervised playground for the children and, of course, their signature Swedish meatballs.
Meanwhile, Johoreans can also look forward to ideas and products that enable them to live a more sustainable life at home, ranging from LED lightbulbs and efficient taps to food savers and recycling solutions.
Rojkjaer also noted that the project plan in Johor includes a shopping centre that will be anchored by the IKEA store.
"Together, our shopping centre and IKEA will help make Tebrau a fantastic retail destination, welcoming people to shop, dine and play."
The RM 592 million investment will generate thousands of spin-off opportunities within local services and supply businesses while creating more than 300 permanent jobs. Recruitment is in full swing with dozens of Johoreans on board and in training at Kuala Lumpur stores.
Speaking on behalf of the chief minister of Johor, Ismail noted that the store will help motivate the state's development and economic growth, and contribute to the improvement in the quality of life of Johoreans.
"The addition of IKEA to the city provides great job opportunities and this means a lot to the people of Johor," he remarked.
The Johor store is an integral part of the overall expansion plan for IKEA Southeast Asia. In addition to the opening of IKEA Cheraslast year, the company opened an IKEA Pick Up and Delivery Point in Phuket, Thailand.
Another IKEA is under construction in Bangkok and the company plans to open a store in Penang in 2018.