Penangites, rejoice! The award-winning developer, Paramount Property is proud to present you its latest development - Suasana @ Utropolis Batu Kawan. Just as its name suggests, it accords you with a personalised ambience that reflects your individual taste and preference in life. Whether it's chic, charming or classy, these urban residences will have the right space identity for you.
Standing at 39 storeys high with an 8-storey car park podium, every unit in this freehold residence comes with a minimum of 2 car parks. To add, selective units further enjoy the convenience of having a door-front car park, a unique feature rarely found in high rise developments.
Impeccably Perfect For You
Stepping into this exquisite residence, you'll discover your home at Suasana to be meticulously designed with full width glass windows at the living area of up to 15 ft wide, giving you a bright and airy ambience, as well as a spectacular view of the horizon.
There are three layout options to choose from. Type A is chic and cosy at 926 sq ft that features 2+1 bedrooms and 2 bathrooms. It is ideal for those looking for a private and personal abode. Meanwhile, Type B is charming and homey at 1,076 sq ft with 3 sizeable bedrooms and 2 bathrooms, which is suitable for growing families.
Type C, on the other hand, is classy and capacious at 1,313 sq ft. It features a total of 4 bedrooms, two of which come with en-suite bathrooms, offering luxurious living space for everyone's indulgence. These exclusive units are further equipped with dual-key feature. This is perfect for multi-generation living by sharing your space without the expense of privacy.
All units are partially furnished and competitively priced from RM500,000 onwards, offering good value to your purchase.
Embracing Restorative Lifestyle
Conceptualised to make life at home a relaxing and fulfilling experience, Suasana lavishes homeowners with 5-tier recreational indulgences. From ground floor outdoor fun, indoor recreational corner, podium floor water leisure, sky garden and infinity pool to sky high rooftop privileges, there's something for everyone, both young and old.
Residents here will have a moment to immerse themselves in the breathtaking panoramic view at the infinity pool or get aqua-fit at the aqua gym for greater health and flexibility. They also get to enjoy fun moments with friends and family at the indoor recreational corner. On top of that, there is a fully-equipped gymnasium located impressively at the rooftop level.
For those who prefer to take it slow, relax your mind and take in the refreshing scent of nature as you go on a leisure stroll along the lush forest trail. Suasana features generous landscape areas at multiple levels, intentionally planned to offer homeowners a wholesome and well-balanced lifestyle much like a landed home.
In The Heart of Utropolis Batu Kawan
Utropolis where Suasana is located, is a 44.3-acre master-planned development anchored by the flagship KDU Penang University College. It is an energetic new address that will set the pulse of progress with a continuous influx of students, businesses and residences to the entire area.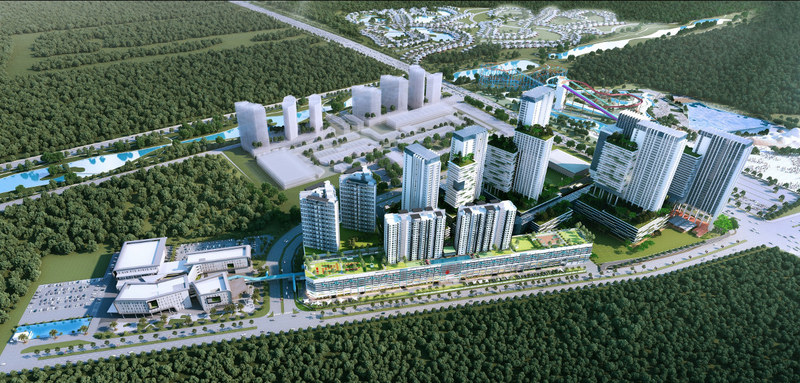 The development mirrors the successful concept of Utropolis Glenmarie in Shah Alam, and is set to be a vibrant integrated landmark that inspires educational and cultural experiences. It is a purposefully designed themed hub that brings together residential, commercial, offices, education, hotel and wellness together as one.
Suasana is the second phase of development in Utropolis, following the impressive take-up rate of phase one. Aptly named Sensasi, phase 1 is purposefully architected to be a vibrant and sensational hotspot with its strategic location right next to the university college, conveniently connected via a link bridge. This freehold mixed development is comprised of 196 units of commercial offices / retail shops spread across 3 levels and 2 towers of residential suites with a total of 612 units.
Conveniently Accessible Location
Suasana at Utropolis resides strategically in between the Second Penang Bridge that connects you to Penang island and the North-South Expressway that takes you to everywhere else you desire. It is a mere 1km drive to both of the above and 29km to the Penang International Airport. Whether it is for personal convenience or business logistics, you will enjoy unparalleled accessibility.
A short walk takes you to Design Village Outlet Mall, a premium outlet that offers total shopping leisure complemented by a variety of dining options. Within the vicinity as well sits Columbia Asia Hospital, which will come in handy if medical emergency situations arise.
Batu Kawan is earmarked for steady growth and is geared towards becoming a major industrial hub in the region. International brand names such as Broadcom, Flex, HP, Haemonetics, Honda, Hotayi, Jabil and many other multinational companies are establishing their presence here, opening up exponential career opportunities and business possibilities to the community. This is indeed the address to own and a strategic place to call home.
Furthermore, Penang is globally recognised as one of the most liveable cities in the world and is also the preferred choice when it comes to property investment. The Pearl of the Orient as it is known, is not just famous for its thriving heritage, culture and food, but also as a choice business, industrial and educational hub in the region.
Not only that, it boasts great connectivity to other parts of Malaysia, as well as direct international flights to all over the world. This multifaceted offering has resulted in Penang having a thriving real-estate market, offering some of the best returns on investment and rental in the region.
An Award-winning People's Developer
Suasana at Utropolis Batu Kawan is a master-planned development by Paramount Property, an award-winning developer with more than 35 years of proven track record for building enduring addresses in the Klang Valley and Sungai Petani. From its beginning as a township developer, Paramount Property has grown its portfolio to include residential, commercial, retail, education, industrial and integrated developments. A trusted choice in delivering quality developments of good value.
Don't miss the opportunity of owning this upcoming prime address in a strategic location. Discover your personal ambience of comfort today with Suasana. Click here to register your interest and enjoy priority privileges. For more info, visit www.suasana.my or call 04-506 0350 / 012-501 0733.