(source: Ministry of Finance)
Budget 2019—themed "A Resurgent Malaysia, A Dynamic Economy, A Prosperous Society"—was unveiled by Finance Minister Lim Guan Eng, and PropSocial sifted through the whole 128 minutes of Mr. Lim's speech to the Parliament, so that you don't have to.
Highlights of property-related items are as follows:
Up! RPGT and Stamp Duties
Increase in real property gains tax (RPGT) for Malaysians and foreigners:
"Real Property Gains Tax rates will be revised for disposals of properties or shares in property holding companies after the fifth year as follows: for companies and foreigners, the rate shall be increased from 5% to 10%; for Malaysian individuals, the rate shall be increased from 0% to 5%. Low cost, low-medium cost and affordable housing with prices below RM200,000 will be exempted."
2) Increase in stamp duty rate:
"Stamp duty on the transfer of property valued at more than RM1,000,000 will increase from 3% to 4%."
Don't know your stamp duty? JPPH can calculate it for you here.
Affordable Housing: Goodies for Low-Income Buyers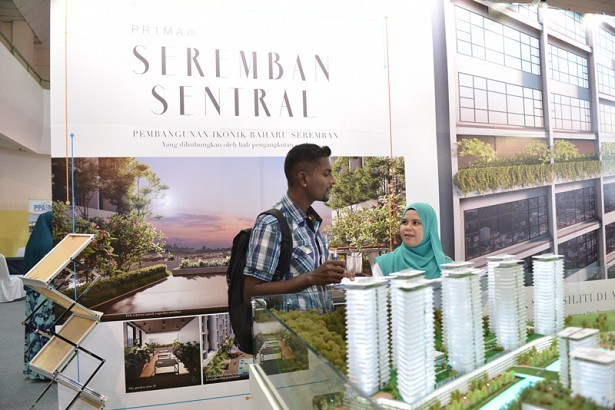 (source: PR1MA)
1) RM1.5bil to build and complete affordable homes:
"We will continue to support the construction and completion of affordable homes with an allocation of nearly RM1.5 billion for Program Perumahan Rakyat, Perumahan Penjawat Awam Malaysia, PR1MA and Syarikat Perumahan Nasional Bhd to ensure the availability of supply."
2) Limited-time offer for low-income earners to buy affordable houses at low interest rate via RM1bil fund by Bank Negara:
"To assist the lower income group earning not more than RM2,300 per month to own a house for the first time, a fund amounting to RM1 billion will be established by Bank Negara Malaysia, to help them to purchase affordable homes priced up to RM150,000.
"The fund will be made available from 1 January, 2019, at participating financial institutions, namely AmBank, CIMB Bank, Maybank, RHB Bank and BSN, through a concessionary financing rate as low as only 3.5% per annum. This will significantly reduce the monthly financing instalment of borrowers to own a house, and make it easier to qualify for the required financing. The RM1 billion fund is available for two years or until the allocation is exhausted."
3) REHDA to reduce selected home prices by 10%:
"The Government has already announced that we have exempted construction and building materials from SST. In return, we have secured the commitment from the Real Estate Housing Developers Association (REHDA) that there will be a 10% reduction in the price of houses that are not subjected to price control in new projects."
Help for First-Time Homebuyers
Which type of first-time homebuyer are you? Find out! (source: TheStar)
1) Higher financing for select first-time house buyers:
"For first-time home-buyers with household income of RM5,000 or less, the Government will allocate RM25 million to Cagamas Berhad to provide mortgage guarantees to enable borrowers to obtain higher financing from financial institutions, inclusive of down-payment support. These measures are expected to give between 7% and 11% cost savings to the house buyers, before taking into consideration any promotional discounts which may be offered by the property developers."
2) Stamp duty exemption on S&P and loan agreements for first-time house buyers purchasing select houses:
"For first-time home-buyers purchasing residential properties priced up to RM500,000, the Government will exempt stamp duty up to RM300,000 on sale and purchase agreements as well as loan agreements for a period of two years until December 2020."
3) Exemption of stamp duty on select unsold units:
"The Government will for a limited time of 6 months only, starting 1 January 2019, waive all stamp duty charges for unsold properties priced between RM300,001 and RM1 million. This will be part of a National Home Ownership Campaign, where in return, developers will offer a minimum price discount of 10% for these residential properties."
A Nod to Public Servants
Financing period for public servants to be extended:
"In line with the Government's intent to assist civil servants acquiring their homes, the Public Sector Housing Financing Board will extend the loan repayment period from 30 to 35 years for the first loan, and from 25 to 30 years for the second loan."
First-in-the-World Crowdfunding
(source: Crowdfunding.com)
Peer-to-peer lending for first-time homebuyers:
"As a demonstration of this Government's willingness to explore new, technology-enabled and innovative mechanisms to solve our housing problems, we will be approving private-sector-driven 'Property Crowdfunding' platforms which will serve as an alternative source of financing for first-time home buyers.
"These exchange platforms will be regulated by the Securities Commission under the peer-to-peer financing framework. As an example, the buyer will be able to acquire a selected property for 20% of the price of the property, while the balance 80% will be fulfilled via potential investors who are interested to fund the acquisition in exchange for the potential appreciation in value of the property over a particular period of time.
"In simple terms, Ah Chong will be able to own and stay in a RM250,000 property by paying up RM50,000 without having to procure a mortgage. Muthu, Lisa and Syarikat Ali Sdn Bhd who might only be interested in investing in a new property for capital appreciation will fund the balance of the RM200,000 via the peer-to-peer Property Crowdfunding exchange. This financial innovation will be the first in the world, and if successful, will transform the affordability of homes for first-time homebuyers in the country. The first exchange is expected to go live in the first quarter of 2019, after all necessary approvals are obtained from Securities Commission."
Read the Finance Minister's full speech here or watch the tabling of Budget 2019 here.
What do you think of the budget with regards to the property industry? Share us your opinion.
(By Syamil Zahari)
Related articles:
First-Time Home Buyer – Entitlements, Privileges and Benefits
The Ultimate Guide Of Refinancing
More Affordable Homes in Malaysia: Building Homes Cheaper and Faster