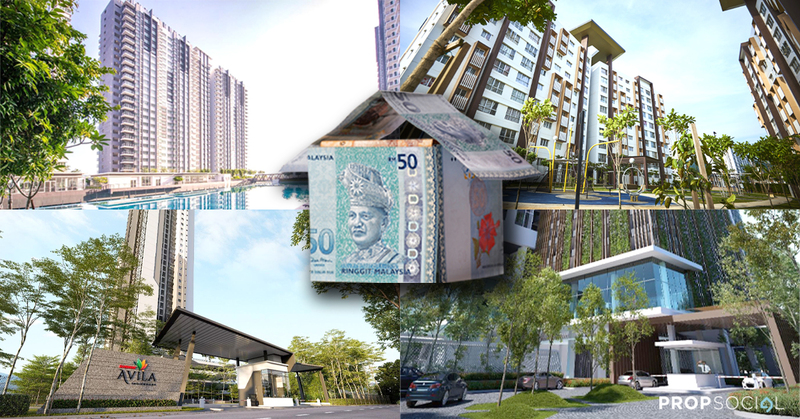 With Hari Raya Eid al-Fitr just a few months from now, it would be ideal for one to move into one's very own abode, celebrating the festivities embraced by the comforts of home, however talk about an unfavourable property market sentiment has caused prospective buyers to hold on to their hard-earned money.
On the contrary, periods like these could prove to be the best time, to secure rock bottom deals within the sub-sale property scene.
Property developers have also taken the cue from market demands, tweaking new residential launches into products with added value elements, offered at price points that are acceptable by homeowners looking for affordable property options.
Let's take a glance at some of the available budget-friendly properties that you could consider on your next purchase!
Seri Mutiara (SM), completed three years ago is situated within Setia Alam. The freehold property encases 676 units of apartments shared across six separate blocks, ideal for those looking for an abode within an opportunity-rich commercial enclave.
Prospective homeowners that are not familiar with the township should take note that Setia Alam is a growing township equipped with all the essential comforts of community living which include retail zones, educational establishments, expansive green ranges and even a mammoth-sized convention centre.
Setia Alam is a growing township equipped with all the essential comforts, needed by residents
Upon gaining ownership of a 939sq ft unit offering three-bedrooms and two-bathrooms, residents in SM will be granted access to an array of condo-like facilities such as swimming pools, a playground, gym, badminton and futsal courts, a barbeque area, a multipurpose hall, a laundromat, prayer room and even an all-inclusive clubhouse.
The 10-storey property is currently sold from RM350,000 and is easily accessible via the New Klang Valley Expressway (NKVE), North Klang Straits Bypass (SHAPADU), the North-South Expressway (PLUS), and the Federal Highway.
Wangsa Maju is an expanse that has seen an increase in the construction of high-rise residential buildings, that cater to the demand of the locale's expanding population.
Joint Venture company Sunglobal Resources Sdn Bhd has now created luxurious yet affordable homes, via its new instalment dubbed Sunway Avila (SA) inside Wangsa Maju.
The uniqueness of this property is that it is connected to the Sri Rampai Light Rail Transit (LRT) station via a covered pathway link. Commuting to and from Kuala Lumpur City Centre (KLCC) will be a breeze as the property is located just six LRT stations away.
This mixed-development will feature 810 units of serviced residences spread across two 43-storey towers, standing majestically atop a three-level shopping arcade.
Luxurious at an affordable price range.
The said property will offer extensive facilities such as a poolside social corner, a sky terrace, a children's water play area, an Olympic length infinity pool, a barbeque area perfect for gatherings, two indoor badminton courts as well as a poolside cabana for relaxation.
The next entry by Mah Sing Development could cause the hearts of frequent flyers to flutter, as it is merely 25 minutes to Kuala Lumpur International Airport (KLIA). Savannah Executive Suites (SES) is located within an expanse that is resident rich and has created living space options for more than 10,000 individuals since its completion in March last year.
SES is located within an expanse rich in green spaces, creating the perfect backdrop for an exciting day out with family and friends, or even for one to simply relax and unwind.
This property presents a total of 3,192 units of freehold serviced apartments, compressed within eight high rise blocks; four towering at 28 storeys each, while the rest are 30-storeys high. Units available within this residence range between spacious 956sq ft and 1,017sq ft layouts, that each comes with three bedrooms and two bathrooms.
Residents will be granted access to an endless variety of facilities including a swimming pool.
This newest offering by SkyWorld Development Sdn Bhd (SkyWorld) is ideal for those looking for an affordable property option, located stone's throw away from Kuala Lumpur City Centre.
The Valleys is a newly launched high-rise developed within the SkySierra development by SkyWorld. This property calls Setiawangsa home and is sold from just RM392,000, for a three-bedroom and two-bathroom unit with a compact layout size of 800sq ft.
The Valleys will occupy a 4.66-acre plot of leasehold land presented across three different towers of varying heights, with the tallest tower summitting at 55-levels. The three-block property will offer 1,309 condominium units, constructed above a nine-level car park platform.
.The highlight of this property lies in the fact that it has a list of inexhaustible facilities that future residents can help themselves to.
The highlight of this property lies in the fact that it has a list of inexhaustible facilities that future residents can help themselves to, placed conveniently at the ground floor, first floor, ninth floor and roof top of the development. A fraction of these amenities include an Olympic length swimming pool, changing rooms and sauna, wellness path, a power MMA gym, an aerobic studio, dance/yoga studio, kindergarten, trampoline, playpark, badminton court and table tennis, convenient store, putting green, acupressure path, tea pavilion, rock climbing, dream chamber, hammock groove, meditation deck, breeze lounge, celestial spa, sky party lounge, sky laze bed, sky dining and to top it all off a stargazing deck.
Getting to the property via public transport is a breeze as The Valleys is located under 3km to three individual LRT stations; LRT Setiawangsa located 1.5km away, LRT Jelatek within a 2.5km distance and LRT Dato Keramat locate merely 2.7km away.
To the delight of avid shoppers, Suria KLCC is located 5.8km from the upcoming residence as well as Pavillion Kuala Lumpur and Great Eastern Mall which can also be found close by.
(By Akshaya Surya, 2 April 2019)
Did you find this article helpful? Do let us know if you have any suggestions and please share them with us through the comments section below!