It goes without saying that air has the utmost importance for living things in this planet as we can only last for 3 minutes without it.
What is equally important, which is often overlooked, is a good ventilation that creates conducive air flow, therefore creating a good chi or energy around us. Proper ventilation ensures the safety and comfort of your home and without it, you are at risk of having contaminants, allergens, harmful volatile organic compounds (VOC) and other air pollutants, affecting the health of you and your family.
Over the years, the changes in layout and designs of residential units, both for landed and high-rise, have raised several issues that have highlighted the need to improve ventilation system in multi-unit residential buildings. High-rise unit owners have often experience issues such as poor indoor air quality and bad odour in their homes.
Looking at these issues from the urbanism perspective and the trend of increasing the density of property layout, addressing and working towards good ventilation is crucial.
You can create a defence system for your home by installing exhaust fans, which are handy in small and humid indoor spaces such as bathrooms and kitchenettes, as they help dragging out the unwanted warm air, odour and moisture from within a room. They also circulate the air in the room for better ventilation.
There is no doubt that one of the first brands for exhaust fans homeowners will think of is KDK, thanks to its quality, convenience and durability.
Experts at KDK say ventilation by merely opening the windows could not be entirely effective or definitive as it relies heavily on environmental conditions.
Ventilation fans are necessary to remove excess moisture from bathroom and kitchen, which will avoid the formation of mould, therefore create a healthy environment. It can also avoid rusting and rotting of materials in your home, which could destroy the structural integrity of your home.
The kitchen and bathroom is said to be the deciding factors in a home purchase. This shows the importance of these parts of your home. Keeping it hygienic guarantees the health of your family. Bad ventilation will result in mould and foul smell that could spread across the room and to other parts of your home.
The layout of residential units restricts the installation of exhaust fans in homes as it is often placed between two bedrooms and overdoing it might cause lack of quality air in your home.
According to the KDK experts, the installation of exhaust fans in both the kitchen and bathroom is absolutely a necessity. It Is because these spaces, with the latest layout and designs, commonly have very few windows, and in need to be aided to create an improved ventilation. Depending on the size of the space, one or more exhaust fans could be needed.
While it might be worrying for you thinking about what is the right exhaust fan to be fixed in your home, KDK experts assure you that they can provide the accurate solution for you.
How to Choose the Right Exhaust Fan?
Experts at KDK say space is the most important fact in choosing and installing exhaust fans. Reserve a suitable space for installation of the ventilating fan.
"Whether you are looking at a ceiling mounted, wall mounted, or glass mounted exhaust fan, you'll need to make sure there is enough space plus a bit of breathing room around the mounting point on your chosen surface," KDK experts say.
The space needed for exhaust fans installation depends on the size of the exhaust fan, but the space carved out should be equivalent to the height and width of the appliance so it may fit through and sit properly.
You can use the Ventilator Fan Selector and get to know how to calculate the type and numbers of fans required, to get the right advice from experts and make your decisions. 
KDK Wall Mounted Ventilating Fan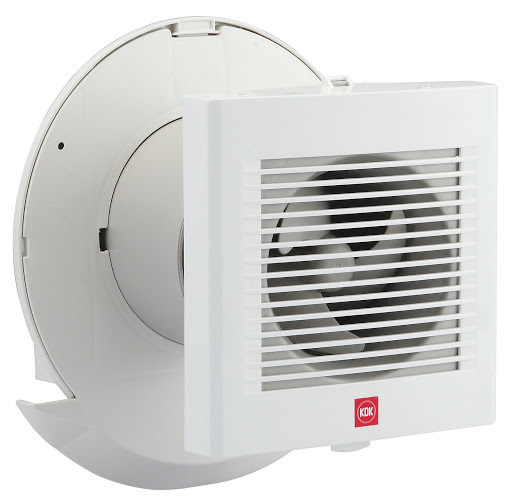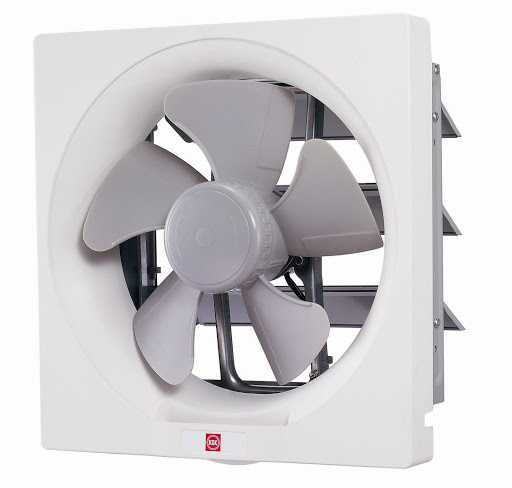 There are several models of the KDK wall mounted ventilating fan available for you, with sizes ranging from 15cm to 30cm.
Experts say these fans are best suited to be installed in the kitchen, bathroom and bedroom. These ventilating fans keep air circulating in rooms, exhaust contaminated air and remove offensive odours. With appropriate ventilation through these fans, there will be an adequate airflow, which will remove stale air and unwanted moisture and humidity in the house.
These fans are well-designed to facilitate its installation, where the accessories supplied with it requires only 4 steps to complete the set-up of the fan.
KDK Glass Mounted Ventilating Fan
KDK glass mounted ventilating fans is offered in 2 models, with sizes of 15 cm and 20cm.
The best thing about this type of ventilating fan is that it can be installed directly into glass window, so that homeowners do not have to allocate a space on their walls to enjoy a good ventilation.
KDK experts say the KDK glass mounted ventilating fans are excellent to be used for bathrooms to dissipate the pollutants out of your home before they could spread throughout the rooms.
KDK Ceiling Mounted Propeller
KDK experts say that the KDK ceiling mounted propeller is suitable for residential use as the Q-blade design provide a perfect balance and quiet operation, ensuring your peace and comfort of your home.
There are 3 models of this type of ventilating fans, sizes ranging from 15cm to 25 cm.
"For those who have praying altar and use incense frequently, it is advisable to install ceiling mount propeller to provide good air ventilation and prevent choking on the incense," the experts say.
KDK Ceiling Mount Sirocco Type
Similar to the ceiling mounted propeller type mentioned above, KDK Ceiling Mount Sirocco exhaust fans are also installed on the ceiling, but they are connected with ducting systems.
This is especially ideal for home sections with ceiling that is fully sealed, or where the wall is not directly connected outdoor. For example, a guest toilet situated in the middle of the house.
With an effective ventilation system, contaminated air can be removed while clean air can be drawn in to provide a healthy and comfortable environment. Your home can benefit from a good ventilation system in terms of air exchange control; deodorisation; maintaining the level of humidity; removal of pollutants; and providing an effective air circulation.
There is no one better than KDK to provide the right solutions for your home as they have the most practical exhaust fans with different designs to suit your needs.
(By Roznah AJ, 27th August 2019)