By traditional definition, walls are constrictive. They are stoic and impassive structures that envelop spaces; a barrier that borders, separates and confines individual areas.
However, this is a characterisation that is far too restrictive, cold and unimaginative for a creative entity such as Photobook Worldwide, which prides itself on being anything but traditional.
Enriching lives via a world of innovative personalisation solutions, Photobook prefers to define walls as blank canvases, providing us with an opportunity to express creative freedom through shapes, textures, colours and the magical imagery of special moments.
A one-stop destination to personalise the things you love, Photobook.com.my goes beyond offering visitors a smorgasbord of photo enhancement options, services and solutions, it also inspires visitors with a range of innovative and artistic ideas.
Among these is an exciting array of expressions that inspire you to transform walls into works of art, with your distinct signature on it.
Photobook provides a host of ready-made wall designs and templates that you can shape, craft and create according to preference and personality. You can also take custom designing a step further by utilising a range of editing options, selecting from a choice of sizes available or even determining the final arrangement of your finished items.
Importantly, you won't have to wait long to see your creation in your hands thanks to Photobook's guaranteed rapid delivery service.
Enjoy the Creative Convenience of Photo Tiles
The latest addition to Photobook's family of creative wall solutions, Photo Tiles invite you to fully discover and express your artistic side with wall art you arrange – or even rearrange – without the hassle of using tools.
Photo Tiles package a series of preferred photos into a collection of 8" x 8" framed tiles that you can easily mount on walls, without drilling holes or pounding nails. Thanks to an easy-application adhesive, you can stick and re-stick Photo Tiles into an ideal pattern or design for your showcase wall without leaving any residue!
Photo Tiles come in optional print positions to give you a choice of overall look. You can have your photos mounted at the back of the frame to create an artistic feel, or have them mounted up front to create a 3D pop-up effect.
Your photos are printed in HD and given a stunning gloss finish, while mounted on slim mengkulang or pinewood frames that come in black, white or their natural wood hues.
Photo Tiles are an ideal and easy solution to begin that project of beautifying your walls because it can be achieved in just three simple steps: clean the mounting surface, peel off the adhesive strips, and proceed to stick.
Go Rustic with Canvas Prints
Another popular option for wall mounted decorative pieces are Photobook's Canvas Prints. Available in a selection of elegant finishes, you can even determine the texture of your canvas surface with three different options.
The Standard Texture has classical material feel and finish, the Leather Texture offers a definitive skin-like composition that delivers a luxurious finish, while the Fine Art Texture delivers a smooth papier mâché surface for a raw, artistic finish.
Also offering a range of canvas arrangement, the Multi Canvas potion allows you to flaunt a selection romantic moments or memorable family adventures, and arrange into three to 10 Canvas prints for a designated wall space.
Meanwhile, the Split Canvas option is an ideal discussion piece for contemporary homes. It artfully splits a single image into three, four or five Canvas Prints, so you can creatively arrange it on a wall to achieve your desired effect.
Get Elemental with Wood or Metal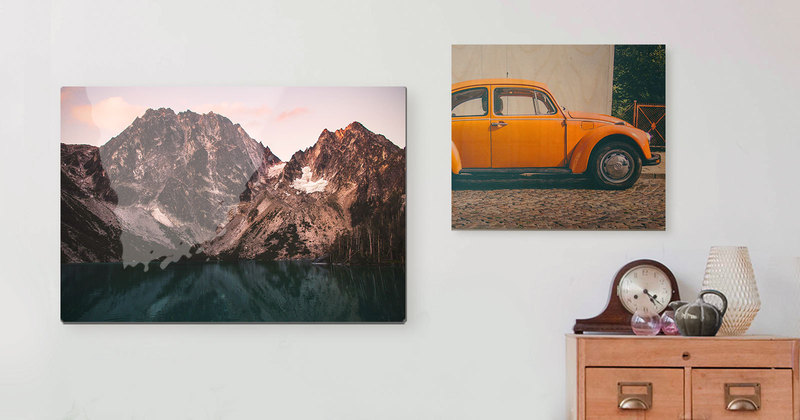 Photobook also lets you celebrate cherished moments in natural and unique ways with the novelty of having your photo printed on wood or metal surfaces.
Wood Prints deliver a full bleed design on untreated Sycamore veneer. Making this special is the fact that every Wood Print piece is truly distinctive, thanks to the uniqueness of variable wood grain patterns.
Alternatively, you could go with a modern industrial finish by opting for Photobook's Metal Print. Hues are pronounced on this surface, delivering a true-to-colour effect, while the 1mm thin metal sheet is luxuriously durable, giving you a decorative piece that will last a lifetime.
Framed Prints for the Classically Inclined
For some, nothing beats the classic effect of framed pictures adorning showpiece walls. Photobook delivers ready-to-mount quality Framed Prints directly to your doorstep, so that you can spend more quality time crafting your perfect wall.
Framed Prints are designed to inspire and attract, using premium New Zealand pinewood frames and acrylic Plexiglas protective surfaces so you can showcase photos in classic elegance.
Available in Raven black, Winter white and Woodland brown, you can even opt for a full image frame or a white Matboard border for a more sophisticated look.
Let Your Personality Shine with Poster Prints
Show off your best photos in celebrity style with fully-personalisable Poster Prints. Transform prized snapshots into striking posters which can take pride of place at home, the office or the studio.
There are several pre-set design ideas to choose from, covering a variety of topics from travel to everyday moments. You can also customise your theme, rearrange design features and opt for a portrait or landscape format. If you have your own design idea in mind, Photobook accommodates by allowing you to create your own poster from scratch.
Poster Prints feature high-quality prints on Photo Lustre paper, rendering images with stunning colours on a satin-matte texture. Its acid-free archival quality also ensures that your poster-finished photos stand the test of time.
Photobook's range of wall expressions helps you discover decorative solutions that are meaningful to you. It gives you the freedom to create according to your taste, brings your vision to life in a few easy steps, and then delivers it to your doorstep for you to enjoy without a lengthy wait.
Discover a wall decor solution for your home or workspace at Photobook Malaysia.
(19 September 2019)