PropSocial People's Property Award 2019 drew upon its conclusion on 19th October 2019. Launched on 19th August 2019, the voting period ran for two months to establish outstanding properties by esteemed developers in Malaysia. The winners of each category resulted from votes that were generated from the public for the public reaffirmed the integrity of the awards as the People's Choice Award.
There are six categories within the awards which includes best Value for Money, Eco-Friendly, Innovative Design, Family-Oriented, Luxurious Landed, and Facility Rich.
The winning project for the category best Value for Money goes to Savanna Executive Suites, Southville City from Mah Sing Group Berhad.
Proving outstanding dedication to creating environmentally-friendly developments, the winner of the Eco-Friendly category goes to Wisteria, Bandar Rimbayu from IJM Land Berhad.
And bagging the award for the category Innovative Design is N'Dira Townhouse, 16 Sierra, selected from the finest of IOI Properties Group Berhad developments.
Making the cut for the best Family-Oriented development is LakeFront Villa, Cyberjaya from MCT Berhad, while awarded the highest honour for being a Facility Rich development is V Residence Suites, Sunway Velocity, Cheras from Sunway Integrated Properties Sdn Bhd.
And the winner for the most Luxurious Landed award is the Victoria Springs, Setia Eco Park, Shah Alam development from SP Setia Berhad.
The People's Property Award 2019 was made possible by the generous partnership of some of Malaysia's favourite consumer brands.
One of the biggest sponsors is KDK Fans with four latest models to give away among others. The highlight of all prizes for the voters includes the grand prizes of a 4 Days and 3 Nights stay at Club Med Kani, Maldives for 2 adults, the DeVano SV Massage Sofa in Pearl White from Gintell, Cellini's exclusive Intense Sleep Mattress along with a 55' TV from Panasonic and Rubine's Estratto Series cooker hood and gas hob.
Participating voters are also in the run to win valuable vouchers from top brands such as Gintell, KDK, KARE, Centon, Kaodim, Boozeat, Photobook, San Francisco Coffee, and Tefal.
PEOPLE'S PROPERTY AWARD 2019 WINNERS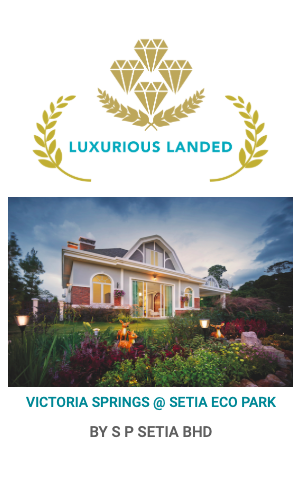 (1st November 2019)