SoHo, SoVo, SoFo, VOS, link homes, super link homes and cluster lots. Followed by corner lots, end lots or intermediate lots. Strata title or individual title, what's the difference?
The property market nowadays is as much of a name game as it is a quality development, resulting in much confusion and unanswered questions for the property market newcomers. New names for developments are popping up left and right, and as little as 10 years ago terms such as Loft, SoHo and Duplex did not exist.
To understand the import of the following explanations, you will first need to know the importance of having a residential or commercial title, the difference between a strata or an individual title and the importance of the Housing Development Act (HDA).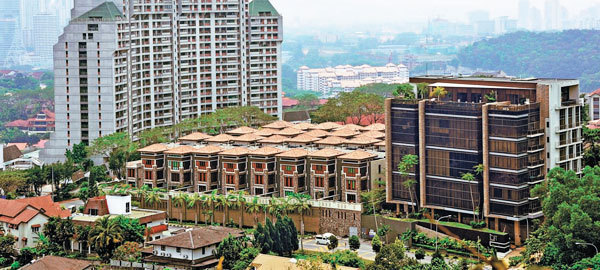 Housing Development Act (HDA)
The HDA plays a major role in safeguarding the interests of property buyers, of which some of the issues include, but are not limited to, setting rules and regulations for when developers can start charging buyers for a new property, fighting on behalf of residents when a property is abandoned, and stepping in when there are conflicts between the developer and buyers.
The majority of the commercial titled properties do not enjoy the protection of the HDA, hence many commercial property buyers are at the mercy of the developer whether the property is abandoned or whether there is a hidden clause in the contract which favours the developer heavily.
Developers of commercial properties are also subject to the whims of the developers. Where in the case of HDA regulated projects it is stipulated that a buyer only needs to start serving their loan upon completion of earthworks, in non-HDA regulated projects the developer can begin to demand payment as soon as even one tractor sets its tracks on the empty plot of land. A clause in the contract may be worded as, "… upon commencement of works".
For more information, check out the HDA website: http://www.hba.org.my/
Residential Title
i) You can do anything you like in your house, i.e. host a party, call guests over, buy whatever furniture you want - most importantly you can sleep there without being chased out
ii) You can turn on your air-cond anytime you like
iii) You are not bound by law to have a working water sprinkler in your house in case of a fire
iv) It is not compulsory for you to have fire insurance in case your property burns down
v) You can have a proper kitchen, not just a pantry
vi) You are not allowed to convert your house into an office or a shop, you will need special approval and permits for that
vii) Most importantly, your water, electricity, Indah Water, quit rent and assessment fees follow residential (cheaper) rates
Commercial Title
i) You are not allowed to convert your property into a house, i.e. no hosting parties, no moving a bed and wardrobe in, and if anyone catches you sleeping and living in your office like it's your house, legal action can be taken against you
ii) You are not allowed to have your air-cond turned on 24/7 in the common areas, which is why most offices have a centralised air-cond system which they can turn off at a stipulated hour
iii) It is compulsory for all commercial properties to have water sprinklers as ruled by the Bomba department
iv) It is compulsory for all commercial properties to have fire insurance in case the property burns down as ruled by the Bomba department
v) Commercial properties are only allowed to have a pantry, not a kitchen (restaurants are exceptions with special approval)
vi) Most importantly, the water, electricity, Indah Water, quit rent and assessment fees follow commercial (more expensive) rates
Bearing the above constrictions in mind, you will now be able to better understand the importance of the below explanations:
SOHO / SOVO / SOFO / VOS
These 4 differently named similar developments share a common factor; they are all tiny sized units, and have almost no difference in terms of context. What are the factors that set them apart? This is a story that will bring us back to ages past with the first SoHo development of Empire Subang.
When Empire Subang was built, there was a property boom and residential developments were all the hype as 90% loans could be procured at all times. However, a clause with the HDA which involves much complicated calculation says that the plot ratio for residential land must be only a certain number per acre, whereas commercial buildings are allowed a higher plot ratio. A simple example would be that if it is a residential piece of land, a developer will be allowed to build 70 units of homes within 1 acre; but if it is commercial land, the developer would be able to build 100 units of homes within that same 1 acre instead of 70. Hence more money earned.
So the very first Empire Subang was a classic example of commercial land, Mickey Mouse units and excellent profit margins for the developer. The words 'Small office' represented the commercial aspect of the land, while the words 'Home office' represented the 'home' component. At this point of time, the SoHo development was still without HDA protection. Needless to say that these units sold like hot cakes.
Down the line however, the government became more stringent with their property bank loan approvals and buyers were no longer able to obtain 90% loans for their homes. SoHo developers were forced to have HDA rulings for their developments since it had a 'home' component to it, and the trend moved to commercial buildings. This is where SoVo, SoFo and VOS came into play.
While these terms make no difference to buyers in Malaysia, they make a world of difference overseas. SoFo offices are technically 'flexible' offices where you can decide where you want to put your pantry, where you want to put your room, and were you wish have your office. SoVo on the other hand are technically 'versatile' offices where you can partition off areas to have an additional office or two, push the walls back, or renovate it as you wish.
Yes, almost no difference. But a difference nevertheless overseas, but a difference that is not recognised in Malaysia either by buyers or by laws. A breakdown of these different types of homes to the common buyer would be:
1) SoHo - Small Office Home Office
i) Commercial title
ii) Under HDA protection
2) SoVo (Small Office Versatile Office), SoFo (Small Office Flexible Office) & VOS (Versatile Office Suites)
i) Almost no difference between SoVo's, SoFo's and VOS's except its name
ii) Commercial title
iii) No HDA protection
BUNGALOW / ZERO LOT BUNGALOW / CLUSTER
Next in the list would be Zero Lot Bungalows, Bungalows and Cluster homes. These 3 are some of the most similarly built homes in Malaysia with few distinctive differences.
1) Bungalow
A bungalow is one of the most worthy of home types in Malaysia, bearing large tracts of lands all around the house with the houses themselves being rather huge. The only type of home to be larger than a bungalow would be a mansion.
2) Zero Lot Bungalow
A Zero Lot Bungalow is similar to a Bungalow except for the size of its land. It is by far smaller in terms of land size with the house located on one corner of the plot of land in order to maximise the compound space.
3) Cluster
Cluster homes are a relatively new concept in the market, where the houses are literally made in clusters. Cluster type homes come in both high rise and landed property designs, of which it is an advantage for high rises as all the units get a decent amount of natural lighting. Cyberjaya Lakeview Residency has an excellent example of cluster apartments, where residents will be able to enjoy panoramic views and ample lighting from all its units.
DETACTED / SEMI-DETACHED
A detached and a semi-detached home are one and the same, where the houses have a garden in front of and on one side of the house, whereby they are adjoined to their neighbour perhaps by car park roofs on the other side.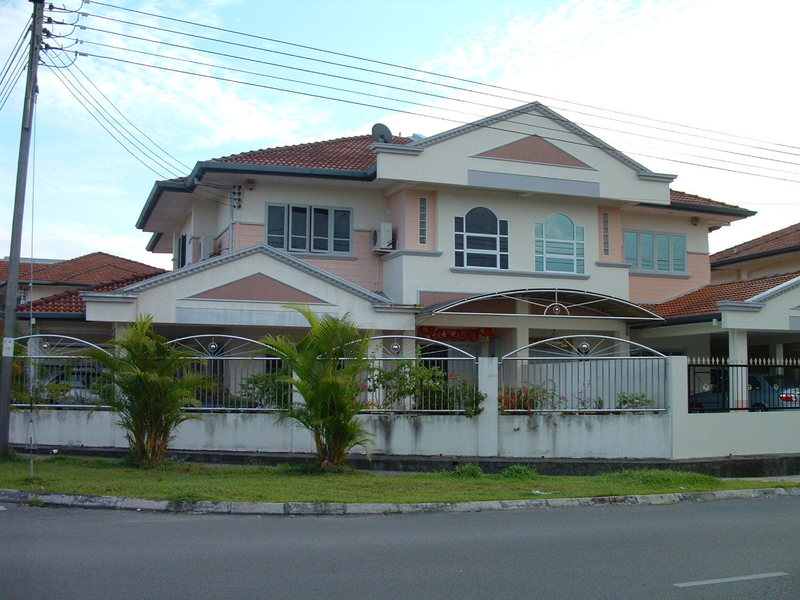 SERVICED RESIDENCE / SERVICED APARTMENT / SERVICED SUITES / CONDOMINIUM / APARTMENT / FLAT
The above terms are perceived differently in Malaysia as compared to other countries, and are commonly mixed up within Malaysia as well. For example, flats are commonly misnamed walk-up apartments. Below is a brief explanation of each category:
1) Flat
- Residential title
- Low end
- Walk-up, no lift and typically 5 storeys tall
- No facilities
- Non gated & guarded
- Outdoor parking lot
2) Apartment
- Residential title
- Low end
- Comes with lift
- Has simple facilities such as a playground and landscaping
- Gated & guarded
- Outdoor parking lot
3) Condominium
- Residential title
- High end
- Full facilities
- Minimum land area of 4,000 square meters
- Usually higher security (e.g. 3-tier security)
- Indoor parking lot
4) Serviced Residence / Serviced Apartment / Serviced Suites
- Usually commercial title
- High end
- Full facilities
- High security (e.g. 3-tier security)
- Indoor parking lots
PENTHOUSE
Penthouses are amongst the loftiest of dwellings. Often described as bungalows in the sky, they are the topmost units of condominiums or serviced apartments, occupying the entirety of the floor with no neighbours. These units usually come with its own private lift lobby. In the past penthouses were generally single storey units, but nowadays penthouses are at least double storey units with the more extravagant ones enjoying their own private swimming pools.
The most expensive penthouse ever to be sold in Malaysia to-date is the super penthouse at The Binjai which sold for RM50 million. Promised to never have blocked views, this lofty home has clear and unhindered views of the KL Tower and the Petronas Twin Towers.
TOWNHOUSE
A townhouse is literally 2 houses on top of one and another. The ground floor units are generally smaller, but have the convenience of entering their homes through the ground floor, a necessity for families with old folks. The higher units on the other hand usually have larger units, but have to get to their homes via a side of the building staircase. Each of these homes, both lower and upper units, are typically one and a half storeys tall.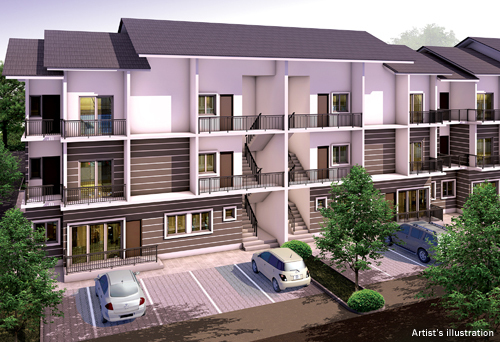 TERRACE / LINK / SUPERLINK
Next would be the many differing descriptions of various terrace homes. A quick trivia - In the United Kingdom, terrace homes are known also as terrace homes. But in America, what to a Malaysian is a terrace home is a 'townhouse' for them. Imagine the confusion it causes when Americans come to Malaysia looking for a 'townhouse' and are brought to an actual townhouse!
There are no inherent differences in these 3 different categories, other than the fact is that the typical terrace homes are sized at 24 x 75', while Link homes are bigger in terms of built-up and land area and Superlink homes are even bigger. The logic behind the names? Nobody would pay six figures for a Terrace home, but a Superlink is a whole different story as it sounds fancier. Hence the different names, but in actual fact and in actual architecture terms they are all still terrace homes.
LOFT / DUPLEX
The Loft and the Duplex are the same thing, despite their different names. Both of them translate to a double storey unit within a condominium. While there are also double storey Penthouses, the Penthouses are still a Penthouse, not a Loft or Duplex.
RETAIL LOT / SHOP
These are another two examples of different names but offer more or less the same thing. Retail lots are typically shop lots in a shopping mall, while Shops are usually shop lots in commercial areas such as one would see in a place such as Korea Town in Ampang. Both can also be held by the developer to be leased out, and both can also be sold by the developer to buyers.
Retail lots such as those at Empire Damansara which were sold to buyers are however usually sold with a a Guaranteed Rental Returns (GRR) in its package, hence the developer will help the owners find tenants. The selling of retail lots are usually done due to financial constraints on the developer, who need the cash from the buyers to complete the development.
The developer does however still make a healthy profit, as for example if the GRR is only RM2,000 per month to the buyer, the developer can rent the unit out for RM3,000 and keep the RM1,000 profit for themselves.
With the categorisations of buildings completed, below are some examples and explanations of some of the terminologies that may confuse buyers.
Corner lot / End lot / Intermediate lot
Corner Lots are literally the corner lots which have large gardens both in front of and beside the house. These units have typically double the land area of Intermediate units.
Intermediate Lots which are otherwise known as Intermediate Units are the houses which have houses on either side of them. End Lots are similar to Corner Lots in the sense that they are both located at the end of the row, except that End Lots are located beside the side alley.
Above are the most common categories and terminologies of homes which can be found in Malaysia. If you come across any other categorisations or terminology which are not listed here, drop us a line below and we at PropSocial will do our utmost best to find it out for you.
===================================================
Written by: Diane Foo Eu Lynn, 10th September 2015
Contributed by: Jordan Tan (http://www.propsocial.my/agent/findjordantan88) and TY Koon (http://www.propsocial.my/agent/tykoon)