For most Malaysians, the typical weekend destination would be a shopping mall. After all, Malaysia is the Mecca for shopping malls and the Malaysian shopping mall industry ranks in the top 5 after 4 other main industries in Malaysia. It also ranks as one of the top 4 shopping destinations in the world, contributing heavily to the country's economy.
But have you ever wondered why do Malaysians spend so much time in shopping malls as compared to the U.S, U.K or Japan? A contributing factor is the Malaysian weather and safety level which makes it more feasible for us to hang out at a shopping mall as opposed to enjoying other outdoor activities. After all, where else can you get everything under one roof from eateries and cafes to cinemas, fashion stores and more with free air-conditioning all day long?
Understanding this crucial factor, many developers nowadays acknowledge the importance of incorporating a shopping mall into their developments. The result is a multitude of neighbourhood malls mushrooming up as compared to the early 90s. It is now common for mixed developments to have a shopping mall on the lower levels with the residential component located on top, such as The Main Place at USJ 21. The presence of a shopping mall (be it existing or upcoming) in a neighbourhood determines the property prices, its ROI (Return On Investment) and level of demand for the property.
However, not all shopping malls cater to the same type of consumer. The layout and tenant mix of a shopping mall depends on the target market determined by the developer. Some malls are more focused on working adults with higher income levels and some are catered to families who just want to have a meal and shop for groceries.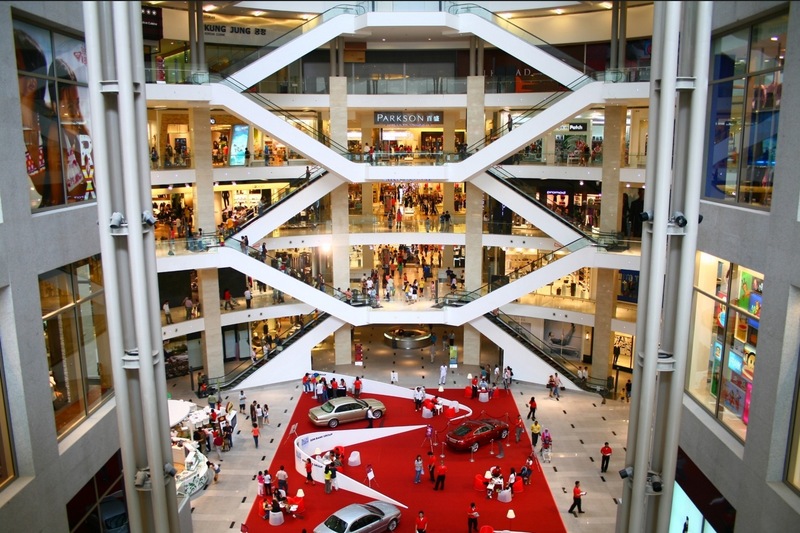 Here we have compiled a list of shopping malls in Klang Valley, their classifications and what determines each classification for your understanding.
What determines the classification of shopping malls?
The classification of each shopping mall depends on the below factors in no particular order:
- Occupancy
- Brands
- Tenant mix
- Achievements and awards
- Facilities
- Building materials
- Services
A-Class Mall
Regardless of what some may opine as an A-Class mall, an A-Class mall is in actuality one which comes with international luxury brands such as Louis Vuitton, Gucci and Hermes. Below are Malaysia's only three A-Class malls as of 2015:
- KLCC
- Pavilion
- Gardens
B-Class Mall
B-Class malls are by far some of the most popular shopping malls in Malaysia. They do not necessarily carry luxury brands and are more popular with street brands such as Topshop, Mango and Esprit. They also come with a very high occupancy rate and massive crowds. Below are some of the country's most popular shopping malls which pulls in large crowds on a daily basis.
- Sunway Pyramid
- Mid Valley Megamall
- One Utama Shopping Centre
- Setia City Mall
- IOI Mall
- Empire Shopping Gallery
B-/ C-Class Mall
Then again, there are some malls which sit just between the B- and C-class classification, sitting neither here nor there. These malls have lower occupancy rates but carry niche international brands such as True Fitt & Hill, Patchi, Aesop, Diptyque and BHS. Some examples of these malls are as below:
- Bangsar Village
- Bangsar Shopping Centre
C-Class Mall
And lastly are the C-Class malls which also garner much attention. They usually carry local brands or at most street brands such as, Topshop, Mango and Esprit. These malls come with low occupancy rates.
- Tropicana Mall
- Paradigm Mall
- Wangsa Walk (Wangsa Maju)
- The Curve
- Ikano Power Centre
- Summit
- Cheras Leisure Mall
- Avenue K
- Lot 10
- Fahrenheit88
- Sungei Wang
- Berjaya Times Square
- Low Yat Plaza
- The Mines
- Atria Shopping Gallery
- Sunway Putra Mall
Boutique Mall
Boutique malls are a category unto themselves. They are niche shopping malls that are catered to very specific target markets with the brands they carry.
- Bangsar Village (niche international brands such as Aesop, Diptyque, BHS, etc)
- Bangsar Shopping Centre (niche international brands such as True Fitt & Hill, Patchi, etc)
- Empire Shopping Gallery
- Starhill Gallery
Neighbourhood Mall (also known as Strip Mall)
These shopping malls are more casual in style catering to families with a more quiet environment. Below are some of the more renowned neighbourhood malls:
- Citta Mall
- The Waterfront @ Parkcity
- Subang Parade
- Kepong Village Mall
- Klang Parade
- Tropicana City Mall
- DPulze Shopping Centre
- Evolve Concept
- Main Place
- Great Eastern Mall
- Sunway Giza
- Atria Shopping Gallery
So you go shopping every weekend and think you are a shopping mall guru? Bet you didn't know how your favourite malls were classified. Drop us a line below and tell us what's your favourite mall!
Or looking for a home close to your favourite mall? Use PropSocial's search to get you a home close to your favourite mall here!
Example: Bandar Sunway