It is the beginning of the Roman calendar new year but the end of the Chinese calendar year, welcoming in yet another exciting chapter ahead. It is that time of the year again where Chinese families start spring cleaning, donating old clothes and throwing out broken stuff. Houses are going to be decorated to welcome in prosperity in the coming year, giving housewives a good excuse to go shopping. But with the inflation being what it is now, why not DIY your own decors? Try some of the tips below for a lovely homemade CNY this year!

Tip 1: Converting Packets of Ang Pows into Fishes and Various Wall Decor
There is always an excess of ang pow packets every year with all the corporations joining in the fun by distributing free ang pow packets with their food, drinks and goods. So waste not want not and save those dollars, pick up origami and start turning your ang pows into lucky fishes!
i) Stick on the Wall Fishes
(Learn how to make here)

ii) Large Lantern Ball 
(Learn how to make here)
Tip 2: Ong Lai! (Prosperity Come!)
Pineapples are a compulsory figurehead during Chinese New Year for the prosperous meaning they bring. This creation involves more idle fingers and ample time, and a major plus point is that you can involve your kids in this too! So grab some golden origami paper and start making some!
i) Golden Pineapple 
(Learn how to make here) 
Tip 3: Make Your own Lucky Words
Buying ready made lucky words is pricey so DIY them with some red crepe paper! And an interesting fact, the lucky word 'Fu' should be placed the right way up outside the house, but upside down inside the house to mean that "Your blessings have arrived"!
i) Fu Word 
(Learn how to make here)
Tip 4: Recycle & Reuse
Little knick-knacks are bought every year to decorate the house, especially cute little hanging ones. These can be pricey, especially if buying many. Why not keep them after the festivities are over and reuse them next year?
i) Bric-a-brac
Tip 5: Light Up Your Home Artistically!
Let your kids have some fun and impress your guests with a few candles and little containers! It's cheap, fun and easy! Set up these containers on your walls and perimeters of your home and you'll be your neighbourhood's trendsetter!
i) Candles 
Tip 6: Non-Flammable Lanterns Anyone?
Setting up the house in red with cute non-flammable lanterns is also a fun way of brightening up your home. And the great thing about making these decorations is that they are fully customisable with a set of coloured glue, tinsels or anything else you like!
i) Chinese Lantern 
(Learn how to make here)
Tip 7: Lanterns to Impress!
Or perhaps if you have a serious excess of red packets and want to just go all the way out to impress visitors, you could try this simple yet seemingly complicated 24 piece ang pow lantern!
i) Impressive Lantern 
(Learn how to make here)
Tip 8: Ornamental Paper Fans for the Occasion
The Chinese New Year season is a hot one and cool breezes from anywhere is always welcomed. While these fans may not be useful in cooling anyone down, they are certainly a pretty sight for the eyes.
i) Paper Fan Ornament
(Learn how to make here)

Or if you think those fans are a tad too common for you, try these ones out instead!
ii) Paper Fan Ornament 2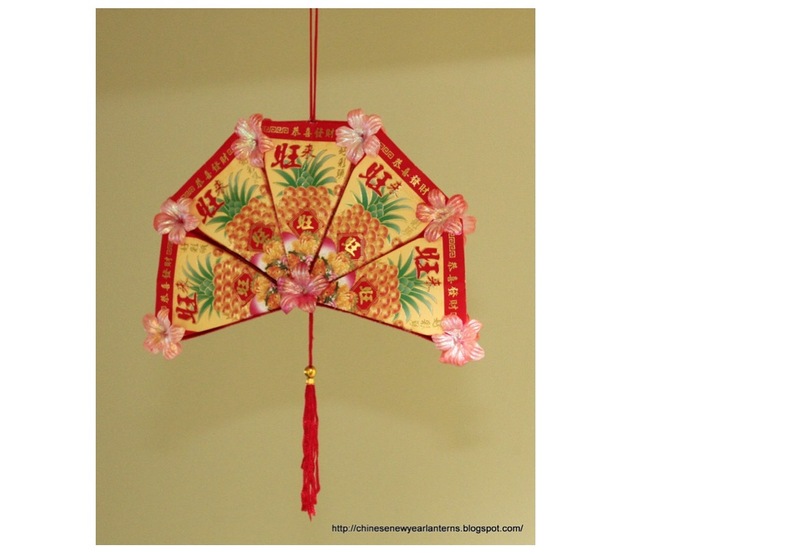 (Learn how to make here)
Tip 9: Things to Not Buy!
Many things are going to appeal to you when you walk into a decoration shop. But unless you are willing to keep stuff like this for another 11 years until the next animal cycle comes again or risk looking silly when you display the wrong animal of the year, it's a bad idea to get stuff like this:
i) Year of the Goat 

Conclusion
The list doesn't just end here, the ideas for house decorations are limitless with the freedom of the internet. A fantastic place to get more ideas are at Pinterest! So what are you waiting for? Impress friends, family members and visitors with your handiness in creating CNY decorations with a personal touch!
(Written by: Diane Foo Eu Lynn, 26th January 2016)