If you live in a small apartment, space is always going to be an issue. Your bedroom is supposed to be your most intimate space and that might prove to be a problem if you have trouble even fitting a single bed in there. How do you overcome this problem, you ask? Well, here are some great ideas that will transform your tiny bedroom into a decent-looking sanctuary!


Floating Shelves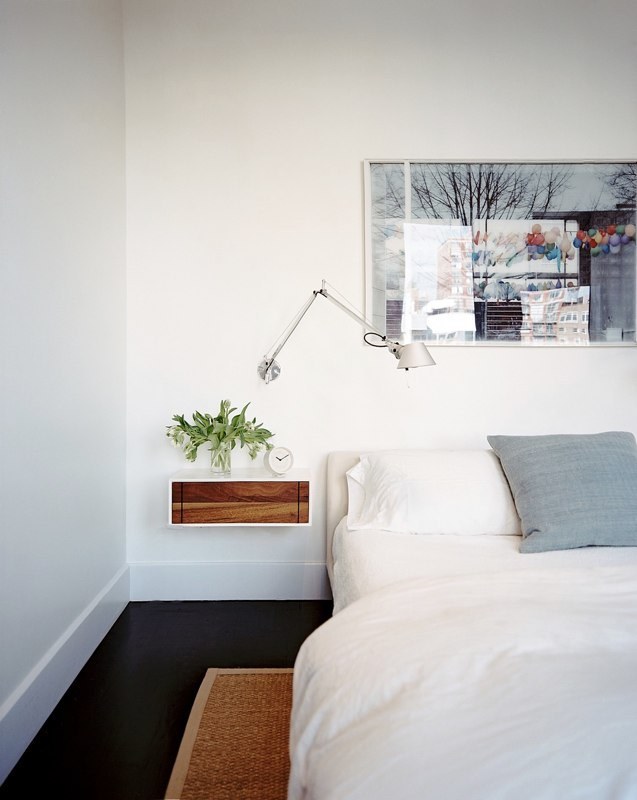 Photo credit: blog.froy.com
Floating shelves add a whimsical touch to your bedroom. This shelf can also be turned into a nightstand so you save space and money on purchasing a bedside table. Feel free to store some books there or handy knick-knacks like an alarm clock or a nice little plant.
Double That Storage
Photo credit: zoomtm.com
When you lack the option of extra space, any space-saving idea will be a saviour. The most obvious one would be to purchase a bed that doubles as storage. Lots of studio apartments in New York have this handy piece of furniture as a sofa and bed. On the plus side, you get to stuff your pillows and blankets into the drawers when you don't need them. Pretty handy, huh?
Brighten The Space With Natural Light
Photo credit: hgtv.com
If you have a balcony or big windows, that's one of the best features of your house and it'd be a crime to hide it. It allows plenty of natural light in and gives the impression that your bedroom is much larger than it actually is. Use window treatments like soft fabrics as curtains so they lend the impression of taller windows and strikes a good balance between lovely interior design and comfortable space living.
Mirror, Mirror On The Wall
Photo credit: homesthetics.com
To create a major visual impact, place a large mirror on one wall to give the illusion of a larger room because the reflection will make the rest of the room appear bigger. It also adds depth and appeals to the entire aesthetic of the room.
Soft Colours For The Walls
Photo credit: tianyunjixie.com
Interior designers are advocates of soft-coloured walls because lighter shades will open up the room, making it appear more spacious. Pale and bright coloured walls reflect light better, thus creating the important illusion of a bigger room. Also, try painting your wall trim a lighter colour than your wall as this will make the walls appear farther back, contributing to the illusion of a broader space.
Don't let anything get in your way of reinventing your bedroom into the beautiful, comfortable haven you want it to be. If you need additional assistance, our home contractors on Kaodim are ready to take on your vision and churn it into a reality! We have experts available to assist you with lighting installation, window repair and other fixtures that you might want to do around the house. All you have to do is submit a job request and we'll link you to the right guys in a jiffy!
--
Kaodim (https://www.kaodim.com) matches you with vetted and verified contractors, plumbers, electricians, personal trainers, and almost any other type of service providers. Receive customised quotations, personalised profiles and user reviews to hire with confidence.