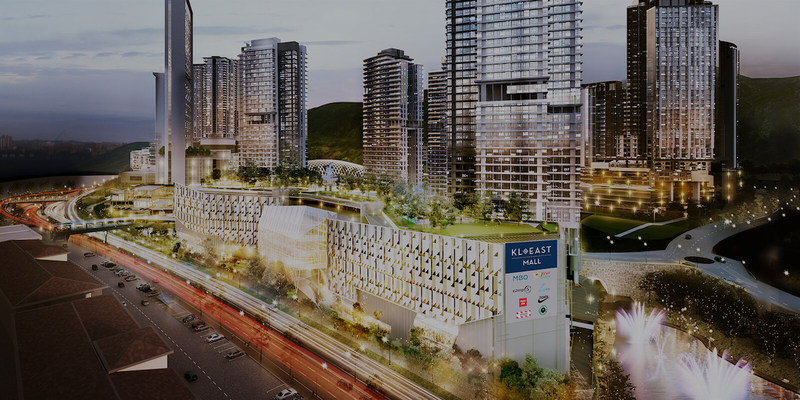 Image source: simedarbyproperty.com
KL East Mall has on 20th November announced the line up of its key tenants. They include renowned international and brands of all genres such as Jaya Grocer, Camp5, MBO, Blue Ice-Skating Rink, Toys 'R' Us, Harvey Norman, Jungle Gym and Chef Wan.
Located at KL East, the retail and lifestyle boutique mall will be sited within a 160-acre integrated development by Sime Darby Property. KL East Mall will have a gross built-up of approximately 1.2 million sf and will be the group's first 100% owned retail mall development. The mall is slated for official opening in March 2020.
Targeted towards all walks of life, KL East Mall boasts attractive opportunities for various businesses such as fashion, electronics and gadgets as well as home supply stores. These retail spots will be complemented by a thriving F&B scene that caters to lifestyle shoppers, walk-in diners, and foodies. The mall will have a net lettable area of 384,210 sf with 200 retail outlets spread across four retail floors.
According to Sime Darby Property Acting Group CEO, Dato' Wan Hashimi Albakri Wan Ahmad Amin Jaffri, the KL East Mall aspires to become the catalyst for Sime Darby Property's KL East development and is positioned as a boutique lifestyle retail mall that will serve the surrounding upmarket neighbourhood of middle to middle-upper income brackets.
"KL East Mall is in an ideal position to enjoy a primary catchment of 1.28 million population with healthy purchasing power, through a total household income of RM29.5 billion per annum. The mall is also well positioned to attract a large student population, as there are various education institutions within its proximity.
"We expect to see more people coming to KL East once developments in the area are fully complete. The growth in population will help transform KL East into a future business and education hub, making KL East Mall perfectly poised to reap the benefits of its thriving population," Wan Hashimi said.
KL East Mall Centre Manager, Dylan Chan further added in that with the great location of the mall next to an 83-acre forest reserve, KL East Mall is set to provide urban shoppers an exceptional experience. He also said that the mall's current occupancy rate is also highly encouraging.
"We are proud to announce that to date, KL East Mall has over 75 percent occupancy; and our official opening will be in March 2020. Retailers within the mall were carefully selected to provide visitors with incomparable shopping options. Our forte is on highly personalised services, which will lead to an unforgettable shopping, dining and leisure experience.
"What we want to do is provide a refreshing change for tired minds and souls, a different and unmatched offering compared to other typical urban malls, providing easy access for shoppers", Chan said.
KL East Mall is strategically located, and is easily accessible via neighbouring areas such as Melawati, and towns in the vicinity such as Wangsa Maju, Setiawangsa, Batu Caves, Ampang and Selayang.
KL East Mall sets itself aside from its competitors with its unique façade, which its design was inspired by the Klang Gates Quartz Ridge, the longest quartz ridge in the world and a potential UNESCO World Heritage site, close to the mall.
The mall also boasts a fully integrated layout design, with popular lifestyle attractions strategically placed to provide storefronts maximum exposure. The layout will have a natural flow to ensure a seamless shopping experience for patrons. The basement and elevated parking lots were carefully planned to provide 1,300 bays, to accommodate drivers even during peak shopping seasons.
KL East Mall is easily accessible via multiple highways including Middle Ring Road 2 (MRR2), Damansara-Ulu Klang Expressway (DUKE), Sungai Besi-Ulu Kelang Elevated Expressway (SUKE), Karak Expressway, Ampang-Kuala Lumpur Elevated Highway (AKLEH) and Setiawangsa-Pantai Expressway (SPE). The mall can also be reached via public transportation, from the Gombak Transit Terminal.
KL East Mall is located at Jalan Lingkaran Tengah 2, Taman Sri Melati in Kuala Lumpur. For leasing inquiries, drop KL East Mall a message at leasing@kleastmall.com.
For more property news, please click HERE.
(26 November 2019)
Like
· 1 person liked this