We all love property and look forward to the notion of buying and crafting a lovely place to live in. But what if... your property came with unexpected guests at night?
Most of us are aware of haunted sightings in the middle of the night, along lonely, dark and deserted roads and highways. Some have even claimed to have taken pictures or videos of these ghostly incidents, with stories eerie enough to send chills shivering down the spine!
Remember the footage of a pontianak dressed in a red kebaya walking along a roadside in Kulim, Kedah late at night? That viral video alone garnered thousands of likes since it was uploaded on Facebook, probably because Facebook doesn't have a "bricks" button.
Pontianak is a local term applied to the spirits of women who died during childbirth.
Whether you believe in restless spirits haunting the living after they pass, or remain sceptical, ghost-hunting remains a popular pastime, with thrill-seekers venturing far and wide to houses and locations reported to be haunted in hopes of making contact with lost souls - or just for a fun night out!
Well, dear PropSocial readers, in the interests of saving you some legwork and Internet trawling, we've listed five of Klang Valley's most enduring haunted houses and locales below. As always, please take these with a tiny pinch of salt, and a generous helping of fun!
1. The Bukit Gasing Mansion
Location: 3, Jalan 5/64, Bukit Gasing, 46000 Petaling Jaya, Selangor
Hats off to the neighbours just across the road who wake up to this every morning.
This infamous house was rumoured to have been abandoned in the late 2000s. According to urban legend, a previous owner allegedly had a mistress, who his wife found out about. In a fit of jealousy and rage, she decapitated the mistress' head and hung it on the front door.
The husband suffered a heart attack and died shortly upon discovering the gruesome scene. The estranged wife then hung herself from the balcony that same day. We have to say this one gave us the creeps just seeing it from the road after dark!
2. The Haunted Taman Tenaga Bungalow
Location: Taman Tenaga 47100 Puchong Selangor
Luxurious mansion in growth hotspot, surrounded by greenery! (Source: YouTube/Amsis78)
This alleged haunted house is located on a hill in a populated suburb – Taman Tenaga in Puchong. One version of the story goes that the mansion was once owned by a wealthy Chinese business man who committed suicide with his family due to financial woes. Another says that they were presumably murdered by an unidentified killer living inside the house's walls.
3. Mona Fandey's House
Location: Aeroplane Bungalow (Mona Fandey's house), behind Leisure Point, Cheras
The famous Aeroplane Bungalow is located behind Cheras Leisure Mall. (Source: Malaysian Urban Legend/Chow Cheah Chen)
Most Malaysians are familiar with the Malaysian horror film, Dukun, which was delayed by 11 years before it was officially released, due to concerns over the sensitivity of the film and the impact of Mona Fandey's much-publicised murder trial on her immediate family.
For those who didn't manage to catch the film, or somehow haven't heard the story, Mona Fandey was tried, convicted and executed for the brutal murder of Batu Talam state assemblyman Datuk Mazlan Idris in 1993, whose limbs were dismembered from his body into 18 parts.
Her last residence in Kuala Lumpur, famously known as the "Aeroplane" House, has been abandoned, but there have been reports of haunting encounters there.
4. Jalan Turi's Haunted Bungalow
Location: No 10, Jalan Turi, 59100 Bukit Bandaraya, Kuala Lumpur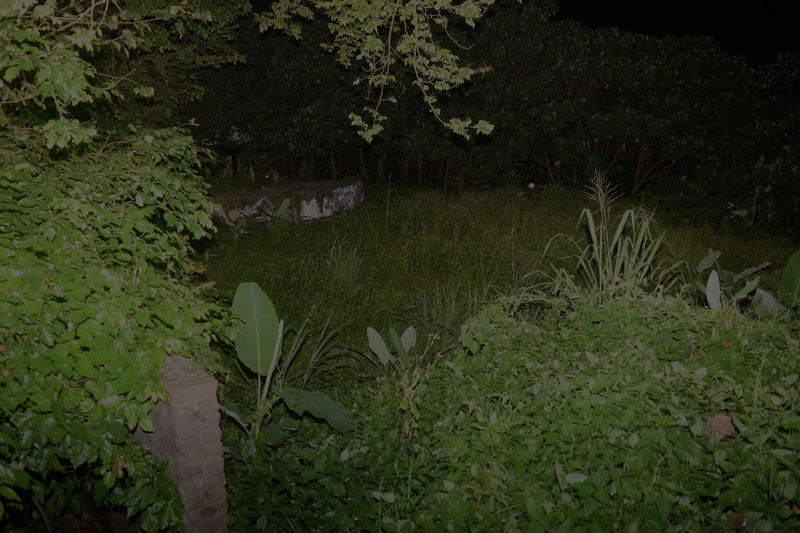 The original bungalow has been demolished, leaving nothing but concrete elements.
At the heart of the thriving, upscale enclave of Bangsar lies an unsettling secret! On 23 April 1992, a security guard murdered two American children, aged 7 and 11, and their maid, aged 45, at a quiet bungalow here on Jalan Turi, cutting their bodies into pieces and dumping the remains in a sewage tank behind the house.

Over time, urban legends have confused the location of the bungalow, with some blogs attributing it to 8 Jalan Turi. With the grisly nature of the crime, perhaps it's best this particular haunted house is laid to rest.
5. Amber Court, Genting Highlands
Location: 3A100 Amber Court, Jalan Ion D'Elemen, Genting Highlands, 69000 Genting Highlands, Pahang
No list of hauntings in Malaysia would be complete without it! (Source: YouTube/Exploring With Cody)
Amber Court has been a top pick for Asia's most haunted hotels, with numerous accounts of sightings there attributed to alleged suicides and deaths onsite. It has even attracted the likes of Malaysian director Ryon Lee, who chose to shoot his film the Haunted Hotel there in 2017.
One of the actors, Alvin Chong has even pledged not to star in any more horror movies after his scary experiences at the location itself. While on set, he claimed to have witnessed ghostly apparitions, a headless woman and a zombie grandmother and granddaughter, causing him many sleepless nights.
(By Felicia Soon, 26 Feb 2019)

Are there any haunted houses near you? Let us know below.