27 August 2017, KUALA LUMPUR – Perdana ParkCity Sdn Bhd (PPSB) has seen an overwhelming response in its latest residential project South Brooks Condos in Desa ParkCity. The Priority Sales Event on Saturday and Sunday, 26 and 27 August has seen excited registrants starting to queue as early as 9am on Friday itself prior to the Priority Sales Event.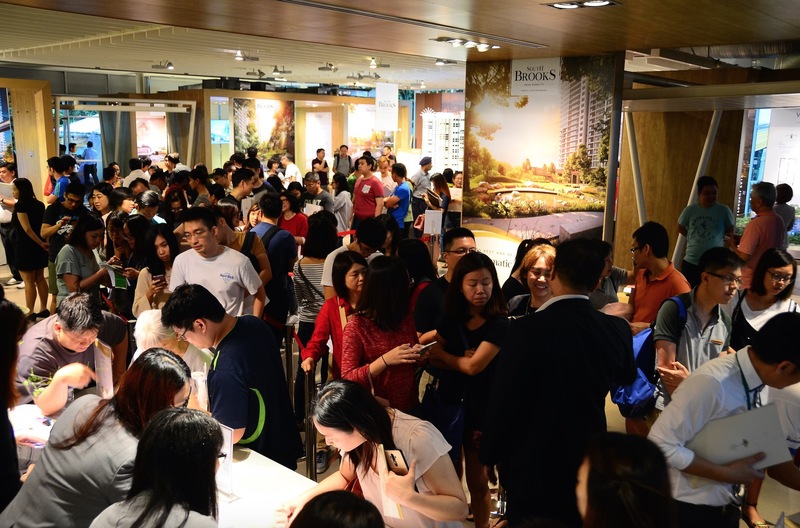 South Brooks Condos comprises a total unit of 920 units in 2 towers with built-up area ranging from 876 square feet to 1,537 square feet on a 7.16-acre land site. The residential development boasts a dramatic lawn right with a brook in front of the two residential towers, sky deck on both towers and its facilities on the top floor of the car park podium for the enjoyment of the residents. Over 30% of the project site is dedicated to open space facilities. Each unit will be fitted with air-conditioning units, kitchen cabinets with hood and hob, and water heater in the bathrooms.
Price starts at an average of RM700 per square foot from RM535,000 onwards and by the end of the Priority Sales Event, over 76% of the 920 units of South Brooks Condos have been snapped up. "If you think about the Desa ParkCity community today and what the township has to offer, South Brooks is really reasonably priced. It is also our intention to offer the younger generation an opportunity to be part of Desa ParkCity's community" said Datuk Joseph Lau, PPSB's Group CEO.
South Brooks Condos opened for registration since May this year and has recorded over 4,500 registrants. "We are thankful for the support from our repeat buyers and in every Desa ParkCity launch we always have a strong group of repeat buyers. South Brooks has also been able to reach out to the younger generation and we are glad that they will be making Desa ParkCity their community" added Lau.
About Desa ParkCity
Desa ParkCity is a multiple award winning master plan Township in Kuala Lumpur located in the affluent north-western district of Kuala Lumpur. It is developed by Perdana ParkCity Sdn Bhd, the property arm of Sarawak based conglomerate, Samling Group with diverse business interests from forest resource management to oil palm plantation, property development and automotive business in various countries globally. Established in 1963 and headquartered in Sarawak, it has more than 16,000 dedicated employees across its international footprint.
About Perdana ParkCity Sdn Bhd
In 1990, Perdana ParkCity Sdn Bhd was established as a subsidiary of Samling Group to venture into the property development business in Kuala Lumpur, the nation's capital. In 1999, the Company acquired the Desa ParkCity site which is a prime freehold 473-acre (191-hectare) land located 13km northwest of Kuala Lumpur City Centre. It was then an on-going quarry mine. The company embarked on a long-term plan to develop a visionary master-planned community conceived to serve the housing needs of Kuala Lumpur's middle class and affluent groups. Today the company has also embarked on 3 other master plan townships, Marina ParkCity and ParkCity Eastwood, both in East Malaysia and ParkCity Hanoi in the capital of Vietnam.
For further information, please contact:
Karen Tan
Senior Marketing Manager
Perdana ParkCity Sdn Bhd
Tel : 03 6280 8888
E-Mail : karentan@ppcity.com.my