Have you recently moved into a new home or are you simply looking to give your residence a fresh and updated appearance? Well, changing your current window treatment is one of the easiest ways one can entirely update the look and feel of several parts of your abode.
There are several common window treatments that are used in almost every home, however, there are some that are unique to certain parts of the world that are increasingly implemented globally due to its function and effectiveness in filtering or blocking light out within a particular home.
Usually one may use several type of window treatment at home to achieve a desired look, feel and vibe in separate areas within a household. Take a look at some of the window treatments available today that you could consider implementing in your property!
Source: Unsplash.com
1. Curtains
Drapery is extremely popular and can be used to treat the windows throughout a home successfully due to its versatility, availability in various shades and colours, thickness, fabric choices as well as several rail and installation styles.
Curtains can be segregated into several types including those with oil, dust and water retention capabilities, noise absorption, light opacity, fire resistance, varying life span and even differed levels of clean-ability.
Traditionally one would have to move curtains by hand, however, with the assistance of technology certain curtain rails can be controlled remotely, thus you need not move a muscle to welcome the sunshine in every morning!
Curtains are commonly found in most shopping malls and home improvement stores at differing prices depending on your requirement.
Homeowners should always remember to measure the length and width of the window that needs coverage prior to purchasing curtains as failing to do so will result in a curtain that is too long and this will result in a rather unsightly outcome.
Source:Unsplash.com
2. Sheer Curtains
This type of curtain is commonly used together with drapery to create a layered effect allowing different levels of light into a particular space in a residence.
Sheer or net curtains are usually translucent in nature, however, one may also choose how much of light you would like based on the different fabric thinness.
This type of curtain can also be found in different colours, however, when used with drapery it is common for people to opt for subdued colours such as white, beige, cream, ivory as well as eggshell to ensure that the sheer curtain colour does not clash with the colour of the main curtain.
This type of curtain is perfect for one to maintain privacy in areas such as the bedroom, allowing those inside to look outdoors but not the outdoors in.
Source: Unsplash.com
3. Venetian Blinds
This type of window coverage can be used to treat entire sections or rows of windows as well as to treat individual windows that are not too wide. In appearance, Venetian blinds are suspended by strips of cloth with slats in unison.
Most Venetian blind mechanisms allow slat rotation of 180 degrees. Venetian blinds are ideal for households that would like to achieve an industrial or resort vibe that results in a bright, airy and uncluttered feel.
Source: Pixabay.com
4. Shutters
Generally, shutters are available in two types; indoor and outdoor; installed on the inside of the house, or for a more prominent and decorative effect those that are installed on the exterior of a residence, like those that you would see in several images of exterior window treatments in Santorini, Greece commonly donning a deep blue shade.
This window treatment provides effective protection from the weather and is able to control the amount of sunlight entering a room. Adding to that shutters also offer sufficient privacy and security however, in some household, the said window treatment is installed merely for aesthetic value.
The mechanism that allows different levels of light into a home is called a louvre or fixed slats with hinges to allow one to open or close a shutter, commonly made out of plastic or weather-resistant wood.
Source: Blognood.me
5. Roman Blinds
For those that are on a tight budget, this type of window treatment offers effective coverage from the suns piercing rays. The roller blind mechanism is extremely simple to use and it shares similarity to common curtains with regards to having the option of choosing from various types of fabrics and opacity levels. Its is common to apply this type of shade in the kitchen as well as upon shorter length windows.
Source: Customcreationsandinteriors.com
6. Panel Tracks
Homes that prefer modern and straight forward protection from the harsh outdoors can use this type of window treatment. The best part about panel tracks is that it can be used as semi-coverage for full-length windows aside from being used as effective spatial dividers within a residence.
A window treatment option originating from Japan dubbed Shoji uses a similar mechanism. Shoji is a type of screen made of wood or bamboo and translucent rice paper allowing enough light to brighten any room.
A Shoji is implemented by using several panels or frames usually connected by hinges. Aside from its aforementioned usage, a Shoji can be used as a free-standing folding screen for decor purposes.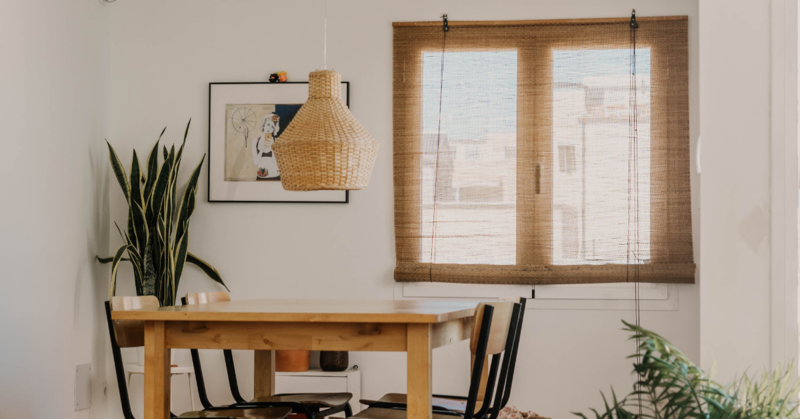 Source: Unsplash.com
7. Woven Shades
For an exotic and simplistic yet textured appearance woven shades that are made out of natural materials such as grasses, wood, and reeds commonly referred to as bamboo shades can be implemented.
The best part about these shades is that it is extremely versatile and can be paired up with any type of furniture choice.
What you will achieve upon implementing this window treatment is an unfussy and casual appearance that is uniform and the best part is that it is also budget-friendly!
Conclusion
As you would have figured out now, the options available for one to use as window coverings are aplenty, all that matter is one's budget, the purpose of an area that is being furnished as well as the general theme that one is looking to achieve once one has effectively dressed the windows. All the best in choosing the option that is most suitable to your interior space!
(By Viknesh Ashley Clarence, 5 September 2019)