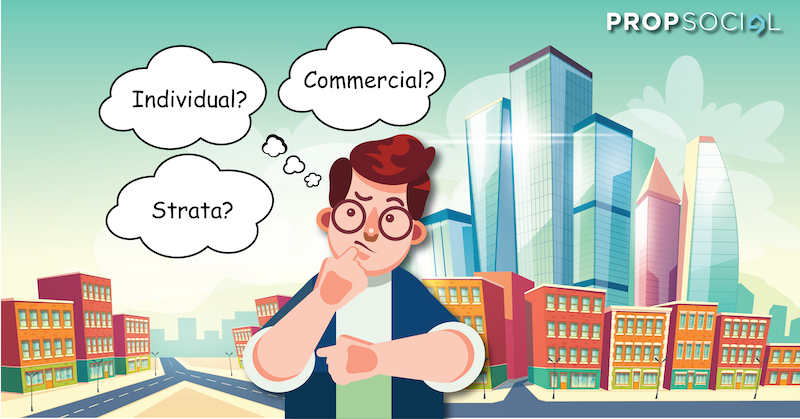 Property titles are a crucial part of your SPA, as different titles give you different entitlements. Over here, we have created a list of the different kinds of property titles in the country to prepare Malaysians on their journey towards homeownership. 
1. Developer's Title / Master Title
A Developer Title or Master Title is a document of a single ownership (Hakmilik) number and is usually listed under the name of the developer, a related company, or the actual landowner. This is before the land is split up into smaller separate lots. In cases where there is a different landowner, the developer may have partnered with the owner to develop the land. For instance, in Malaysia's capital, Kuala Lumpur City Hall (DBKL) could be the landowner, but it may have teamed up with a home builder to develop the land. Usually, local authorities like DBKL or a private landowner sells the land entirely to a developer or retains a stake in the development.
Before the land is divided into separate lots, the developer or the landowner enjoys full rights over the land. This means that they have the power to oversee all transactions involving all properties built on the land. For example, you will need their approval before you can sell your residence or refinance your housing loan.
But once a developer has sold a unit and turned over the keys to the buyer, the firm is obliged to transfer ownership of the said unit. Ultimately, each unit disposed will be recorded under an individual or strata title, and the master title will be subsequently invalidated by the Land Office. By then, the developer will no longer have any right over the properties built on the land, and the individual property buyers will no longer need the developer's approval for transactions involving their unit.
But if you bought the property through a loan, there will be a lien on the property title. This means you won't fully own the property until you've fully repaid the debt, and if you fail to pay the loan, the lender can foreclose your home.
Related read: What to do if you can no longer keep up with your home loan repayments?
2. Individual Title
This is the deed of ownership over each land plot divided from the master title, and each document carries an ownership (Hakmilik) number. If you have this document, this means you own both the land and property built on it. Notably, this only pertains to landed properties, such as bungalows, terrace homes, shophouses and semi-detached residences. However, please be aware that some landed properties could have strata titles, which will be discussed below.
3. Strata Title
A strata title is nearly similar to an individual title, but there is one key difference. With an individual title, you fully own both the land and the property built on it. With a strata title, you own a unit that is part of a bigger development and all unit owners jointly own the land on which the entire development stands on, along with the common facilities of the development.
Examples of properties with strata titles are condominiums and apartments, where all unit owners jointly own the common facilities, like swimming pool, hallways, and stairs. Strata titles are also used for landed housing projects, where there are shared facilities, such as gated and guarded terrace homes. Moreover, strata titles are used for retail lots in malls as well as developments built on top of a commercial project such as a shopping centre.
A strata-titled development usually has a Joint Management Body to help run the building in terms of maintenance and collection of fees. This body is ruled by JMB Malaysia.
Related read: Strata Management Tribunal: What You Need to Know?
4. Bumiputera Reserve (BR) or Bumiputera Lots
These are land parcels or properties that can only be sold or rented out to Bumiputeras, Malaysia's predominant racial group. To be considered as a Bumiputera, a person must belong to any of the below criteria:
I. In peninsular Malaysia, one is considered a Bumi if one's parent is a Muslim Malay or Orang Asli.
II. In Sabah, one is deemed a Bumiputera if one of the parents is an indigenous native of the state. Another requirement is that the child must be born in Sabah, or the father had lived in Sabah during the time of the child's birth.
III. In Sarawak, one is regarded as a Bumi if both parents are indigenous natives of the state.
Typically, there are Bumi units or lots in every new development, and a certain percentage (Bumi quota) of the properties can only be sold or leased to Bumiputeras. Property buyers, particularly buyers of resale homes, should be mindful of this, as such units can only be transferred to Bumis. The only way Bumi lots can be sold to a different ethnic group is to obtain the approval of the state to release the units to the open market.
As of June 2019, this is the general outline of Bumi Quotas over the different states in Malaysia.
5. Commercial Title
By type, there are mainly two kinds of property titles. These are commercial and residential titles. Basically, a commercial titled property can be used for business purposes, like an office or for selling stuff like a shop. However, there are some commercial properties that can be used as living quarters, such as shophouses and small office/home office (SOHO). Some residential properties may also have a commercial title such as apartments or condominiums built on top of shopping malls.
However, there are two major downsides in buying a residential property with a commercial title. First, such homes are more expensive in the long run as compared to dwellings with a purely residential title. This is because you will likely pay a 30% higher rate for your water and power utilities as compared to a residential titled property. Likewise, the monthly maintenance fees and real estate taxes would be more burdensome on your wallet. Second, residences with a commercial land title are not protected by the Housing Development Act (HDA).
6. Residential Title
In comparison, houses with a residential title are safeguarded by the HDA. Hence, property developers selling residential titled properties cannot set lopsided terms on the sale and purchase agreement (SPA). Also, as mentioned above, such properties have lower utility costs and taxes.
Related read: The Shortcut A-Z on SPA
Thus, it's best to always confirm if the property being sold by a developer carries a residential or commercial title. Nonetheless, there are also cases when the perks of purchasing a commercial titled condo outweigh the cons. For instance, if the unit is located above a highly-anticipated shopping mall and is expected to see strong rental demand.
For an in-depth understanding of the differences between residential and commercial titled properties, check out our previous article!
(Written by G. Zizan, 10th October 2019)