Look around any housing area and more often than not, you will come across a retaining wall especially in split-level properties. What exactly is a retaining wall and how do you know if you need one for your house? On the surface, they look like a fairly simple construction but they are in fact carefully engineered systems to prevent your land from collapsing under the force of gravity.
Apart from obvious safety reasons, landscaping contractors also use retaining walls as part of a landscape design that has different depths and terraces. Find out more about these construction features and if you should consider one for your house:
  Source: liberty-stone.net
1. What is a retaining wall?
If your house is built on an elevated piece of land or if one side of your property has a slope, a retaining wall is placed there as a safety measure to prevent the soil structure from washing or crumbling away due to erosion and weather.
Retaining walls can consist of large rocks, concrete, decorative slabs or timber – it really depends on how much reinforcement power you need for your property or whether you want to have it for decorative purposes in your landscape design.
2. How does it work? What Design Does Your House Need?
To understand how it works, first let us explore how does a typical landscaping contractor create a design and construct a retaining wall:
Large Retaining Walls – Larger retaining walls are usually made of concrete and they are built along edges of slopes on a property to keep the soil structure of the land from eroding or collapsing. The building process starts with placing 'forms' which will be poured in with concrete. Once the concrete hardens, the forms are removed to expose the large concrete retaining wall. The same method is used in the city areas to make sloped sidewalks or to widen them.
  Source: starproperty.my
Leveling Slopes & Creating Terraces – Depending on the project size, a sloped or hill area is first dug out. A landscaping contractor would usually do this by hand, with a small bobcat, or a larger equipment for bigger areas. The slope or hill will then be evened out. You can either create a smooth gradient slope or have a terrace effect which are like built in steps.
Building The Wall – To elevate the retaining wall, the ground needs to be leveled out first. This can be done by adding sand to the area or packing down the surface with a yard roller. Next, the contractor would lay down the bottom row of the retaining wall and double check the ground to make sure that it is leveled.
Wall Materials – The materials that the contractor uses for the retaining wall will depend on the wall's primary function and the homeowner's design preferences. Once the wall reaches the desired height, a large amount of backfill or dirt will be added on.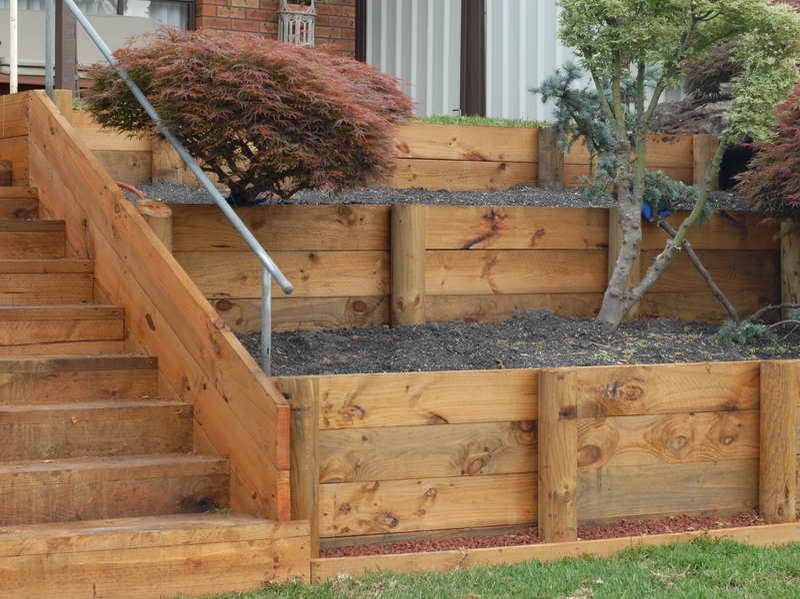 Source: vizimac.com
Solving Uneven Land – Some homeowners will simply build a retaining wall to level out an uneven slope on the property. this can be done by building a retaining wall which is higher than the slope, and to fill it with dirt and soil.
  Source: ruesherwood.com
Creating Decorative Features – Where there are no slopes or hills, smaller retaining walls can be built from the ground level up to create raised flower beds or water features in you garden landscape. These features usually come to about 2 feet tall and are amazing at creating depth into a flat landscape.
Source: http://www.hsmlandscaping.ca/
Have you taken care of every corner in your property? Is your front garden or backyard looking a little bit on the flat side? Get in contact and hire one of our verified landscaping contractor on Kaodim to come in for a consultation.
--
Kaodim matches you with vetted and verified contractors, plumbers, electricians, personal trainers, and almost any other type of service providers. Receive customised quotations, personalised profiles and user reviews to hire with confidence.