Happy Deepavali, PropSocial visitors! 
Deepavali, or the Festival of Lights, is observed by the local Hindu community in commemoration of the return of Lord Rama and his wife Sita to his birthplace Ayodhya after 14 years of exile, signifying the triumph of good over evil, in the seventh month of the Hindu calendar. The religious event falls on the day before the new moon, according to the Hindu lunar calendar. Thanksgiving prayers and cleansing rituals take place at temples and household altars throughout the country.
'Kolam' decoration currently on display at KLIA2. Kolam signifies the joy, blessings and light during Deepavali.
What comes into your mind when you hear of the word "Deepavali"? Holiday? No, not just that. It's the FOOD! Like any other festive celebration in Malaysia, the main attraction is always the food. What better way to celebrate the colorful and tradition-rich occasion but by enjoying special tasty dishes because we Malaysian love to eat.
At the dawn of Deepavali day, Hindus perform a ritual oil bath, which signifies the cleansing of the body and soul, before heading to the temples for prayers and ceremonial rites. For the rest of the day, they usually hold open houses to family members, guests, friends and neighbours to pamper everyone's taste buds with delicious Indian food.
1. Ladoo
Source: flickr
Ladoo is the most important dessert on Deepavali. The colourful golf ball-size delicacy is served during the celebration. There are huge range of ladoos to choose from, but the most common are the ball of ghee, dried fruit ladoo, nut ladoo, and ladoo that is flavoured sugar syrup such as rose water, all of which will pour heavenly sweetness on your taste buds.
2. Coconut Candy
Source: pixabay
Coconut candy is a dense, milk-based, sweet confectionery. A type of mithai dessert, it is a classic Indian appetiser that no one can resist. Coconut candy is made of plain coconut with condensed milk and sugar, which is then cooked in a vessel until the mixture solidifies. Varying is shapes, the coconut candy is typically cut into square, diamond or round shapes.


3. Jalebi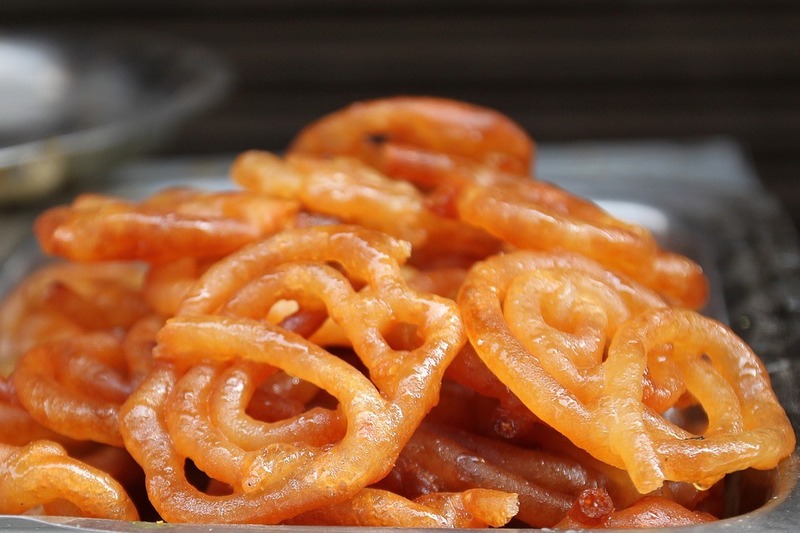 Source: pixabay
Jalebis are small, bright yellow, web-shaped cakes similar to funnel cakes. It is made by deep-frying plain flour batter in pretzel or circular shapes, which are then soaked in saffron syrup to get the orangey hue. Soaking them in saffron syrup and then drying them gives the cakes a crispy outer shell. They have a somewhat chewy texture with a crystallized sugary exterior coating. Jalebi is sure to give your taste buds a kick!
4. Payasam
Source: flickr
Payasam is a tasty milk-based pudding, originating from the Indian subcontinent, and is made from broken wheat or vermicelli with milk and sugar, and then flavoured with cardamom, raisins, saffron, cashews, pistachios or almonds. It is typically served during a meal or as a dessert. This dish takes the humble classic pudding to a whole new experience to tempt your palate.
5. Murukku
Source: wikimedia
Murukku is a Tamilian word that means "twisted". Traditionally associated with Deepavali, murukku is one of those delicacies that can be found in almost every Hindu household during the Deepavali celebration. Murukku are fried, spiral-shaped savoury snack made from a mixture of black lentil, rice flour, and flavourings such as chilis and carom seeds that gives them an incredible taste. Amazingly, even though these crunchy crisps are deep-fried, they are not oily at all!
Servings of Savoury
Those are such Deepavali snacks that you're most likely to come across during Deepavali. Celebrating Deepavali is never complete without a touch of Deepavali viands that will certainly get yourself going crazy over it.
Happy Deepavali to all Malaysians!
What is your favourite Deepavali snacks? Share with us your Deepavali delights.
(By Elmia Kayok)
Related articles:
5 Indian Household Superstitions You Might Not Know
PropSocial Deepavali Greetings 2017: Indian Cultural Taboos